What is a point cloud and how can it help building surveys?
Point clouds are sets of data that represent objects or spaces. It is a way of collating a large number of spatial measurements into a data that can then represent a whole 'space'.
Point clouds are most commonly generated using 3D laser scanner technology and techniques, and this is what we use here at Shape Architecture. Each point represents a single laser scan measurement. These scans are then stitched together creating a complete scene, or, synthetically generated from a computer program. At Shape Architecture we are currently using a GEOSlam Revo to undertake this survey.

The Benefits
Many existing buildings present a great challenge in terms of accurately surveying them and the survey is the foundation of all follow on work. At Shape Architecture we are always keen to carry out the survey ourselves as it enables an early understanding of the project and meeting the clients where they can explain what they want to achieve. The 3D survey means that we can be sure that even the most complex geometries can be accurately surveyed.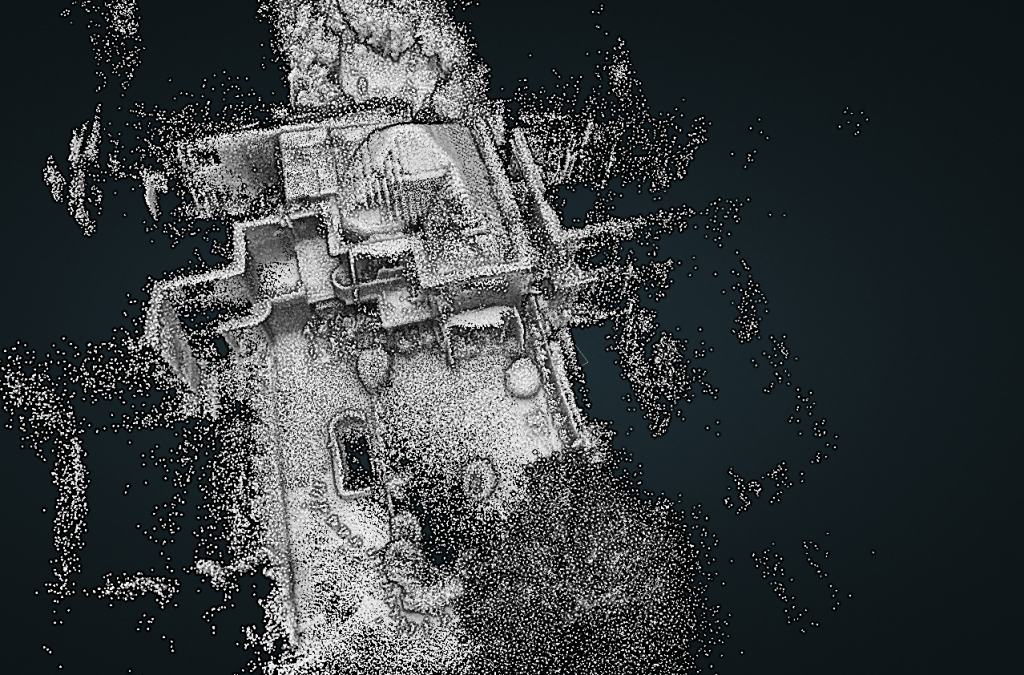 The Survey Process
A number of staff members have been trained on how to use the equipment. The survey equipment comprises a hand-held rotating scanner and base unit that is worn over the shoulder during a walk-through scan. The 'wand' as it is affectionately known, sends thousands of lasers a second to collate data which is then processed internally within the computer carried by the surveyor. Alongside this, a tablet or portable device is required to activate and conclude the scan, the portable device also shows a read-up and representation of the scan data in live time so areas that need further scanning will not be avoided.
Prior to undertaking a scan, a walk-around the area is required. This allows the formation of an unobstructed route which will lead to efficient reading of the building. Another consideration is in being proactive with the scanner and ensuring all levels are examined, this is normally achieved through using an extension pole with the scanner to enable the reach of various heights with the laser device. Another key element is making sure any mirrors are covered, or alternatively avoided, this can affect the final compilation of the point cloud.
Once the survey has taken place the data is downloaded onto our server in the practice. The next step is to co-opt the survey files into our CAD drafting system in order to produce the final drawings. In this way, a series of plans, elevations and sections can be produced. We also have the survey data files should we need to double check any dimension. All our projects now benefit from the use of this 3D surveying equipment.