As London basement architects Shape Architecture has now worked on over thirty basement extension projects in London.
These projects have been undertaken in a number of boroughs ranging from Fulham to Kensington, Richmond, Camden, Windsor and many more.  It is this breadth of experience that contributed to Shape Architecture's expertise in designing London basements.
In addition to designing basement projects across London, Shape Architecture has worked on basements of all types and sizes.
These range from those with complex planning issues such as to Grade 2 listed buildings, to basements below flats, to limited sites in Mews settings to a large number where houses configured as flats have been re-configured as large family homes with basement extensions.
This experience further underscores our expertise as basement architects in London. It ensures that we can show our clients an extensive and varied portfolio as we develop a basement project.
Our client base for these basement extension projects is also varied and range from private clients as young families to retired couples to developer clients and a number of clients based abroad.  The projects listed below offer an insight into a number of these projects
Below Garden Basement to Listed Property
Our below garden basement extension to a Grade 2 listed property in Windsor illustrate how with care an imaginative basement extension to a listed property can achieve planning permission.  With a glazed structure providing access into the basement this project is filled with light and provides a dramatic addition to the family home.  The dining platform is supported by a steel tree and the the geometry of the glass roof then extends into the ceiling of the basement which is finished in birch faced ply and through high level Windows can be view from the above ground glazed structure.
A Pre-App process and the careful putting together of supporting reports helped ensure the success of the planning application.  The Pre-App process included an on site meeting with the Heritage Officer where we as architects could discuss the project and put it its case to the officer.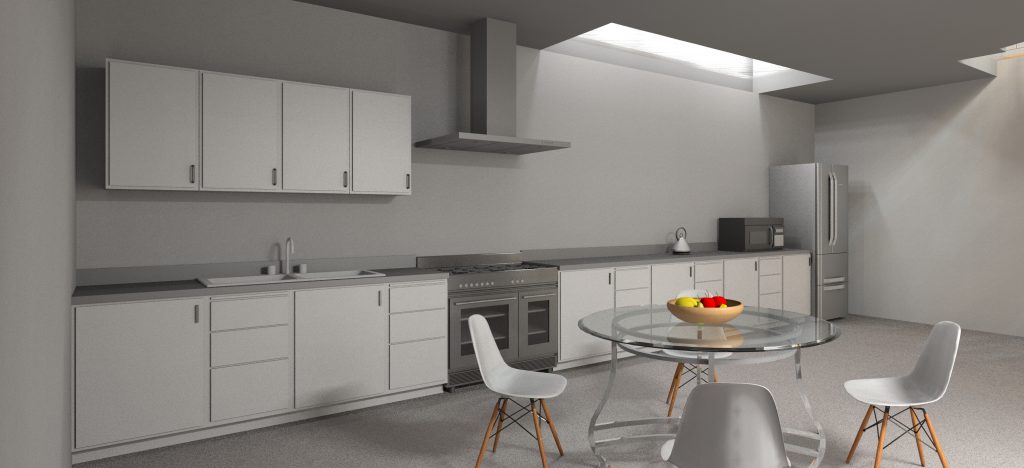 This London basement extension is to Adam and Eve Mews property in Kensington.  We have carried out many basement extensions to Mews properties in London and have developed a number of ways to bring natural light into the basement as this is the main challenge in a Mews basement extension.  Here light is brought down into the basement through the extension of a lightwell at the rear.  At the front of the property a full width structural glass panel provides natural light.  An elegant steel and glass stair links the ground floor to the basement.
Fulham Basement Extension and Conversion into a Single Family Home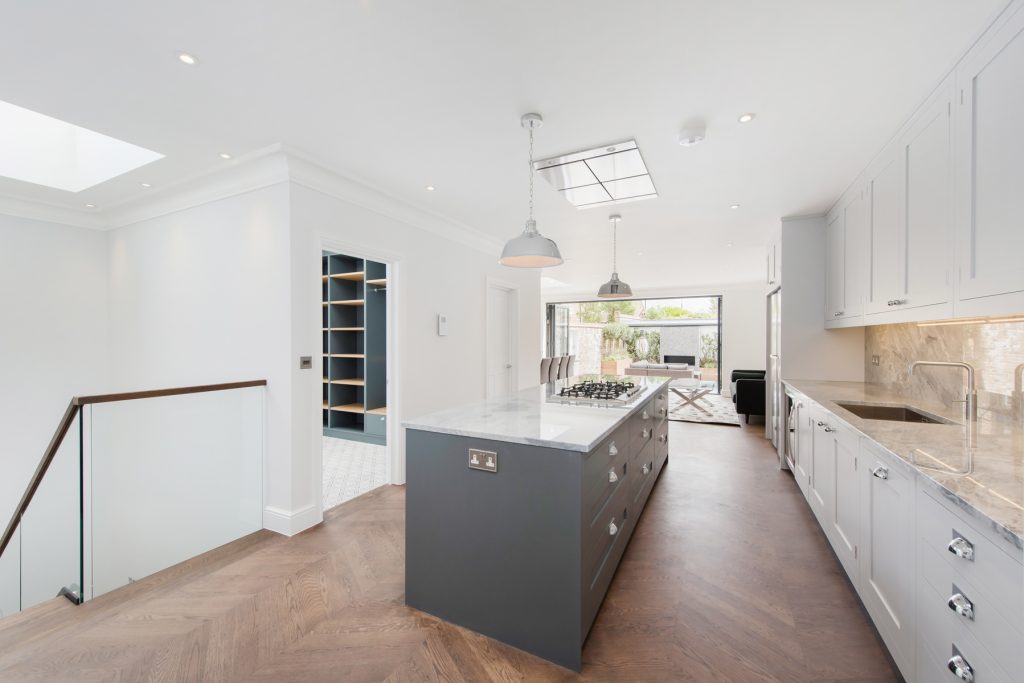 Our Fulham basement extension at Queensmill road is to a large corner property that saw two flats amalgamated into one family home with the addition of a large basement extension.  This project is one of our now fifteen Fulham basement extensions.  The property is distinguished by its open plan interior and as is common to Fulham basement extensions also includes a side infill extension, a pod room and loft conversion alongside extensive internal remodelling.
Chelsea Basement Extension below Lower Ground Floor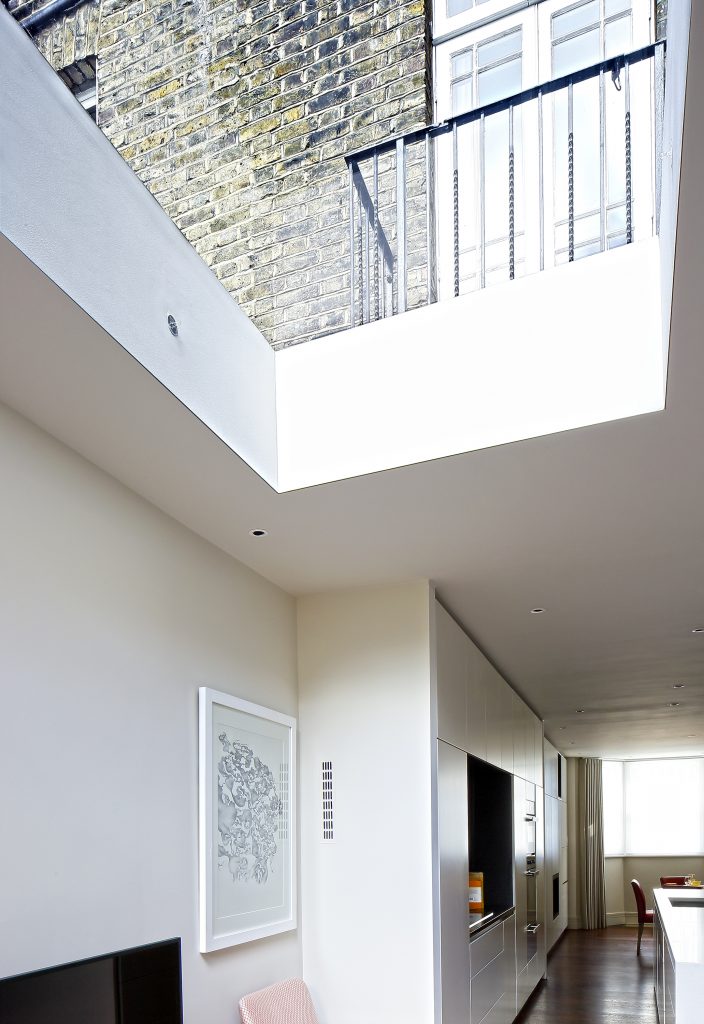 Our Basement extension in Chelsea at Redesdale  street is set below an existing lower ground floor.  As with all other basement extensions it was the issue of delivering natural light into the basement that was a key challenge.  Common to other basement projects in London was the extent of development throughout the other parts and levels of the property.  Here the existing lower ground floor was extended to form a simpler geometry.
Basement Extension and Integration with Garden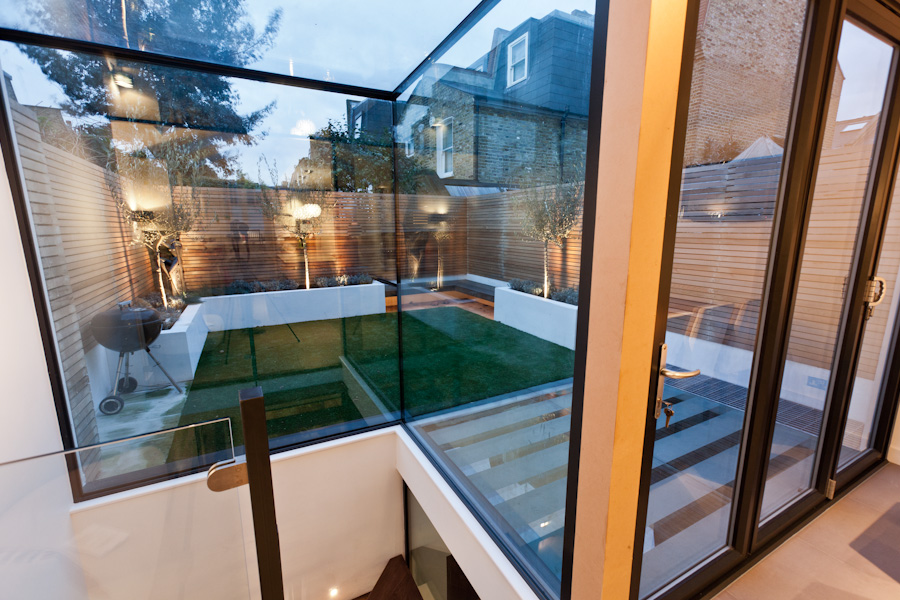 Our Fulham basement extension in Hurlingham Road is of interest as it explores the connection between the interior, the basement extension and the garden.  The key to its success is the creation of a glass cube projecting into the garden set within which is the basement to ground floor stair.
Several clients have since visited this Fulham  basement and particularly enjoyed the feature of the glass box and we have gone on to include thus design feature into other basement extensions.
Basement Extension and Integration of Interior Space
Here the connection between interior and garden is developed still further with excellent connections from the basement to the garden via a steel and glass stair and similarly from the ground floor to the garden via a glass bridge.  With the introduction of an additional lightwell in the middle of the property and a link over it views can be had from the reception rooms at the front right through to the garden which serve to create a feeling of openness and light.
This basement extension in Hastings is very successful.  The project took two flats divided into a series of small dark rooms with a two storey courtyard cum lightwell.
Here our Client recognised Shape Architecture's expertise in designing London basement extensions and the diversity of our portfolio.  It was on this basis that the brief was set to design a creative, sustainable light filled project that paid attention to recycling and upcyclng alongside the use of colour and pattern.  The basement benefits from a long linear light shaft that is carried up through the ground floor infill extension and terminates in a series of electronically openable Rooflights set into the green sedum roof.