Basement Architects in London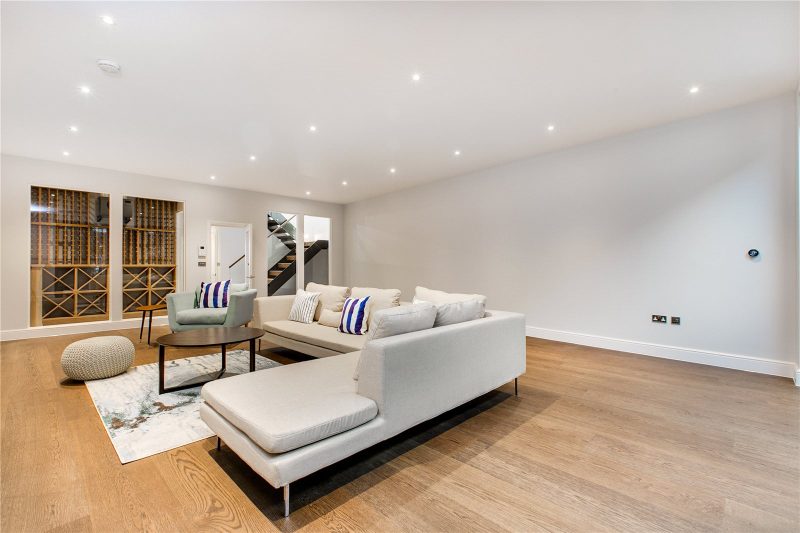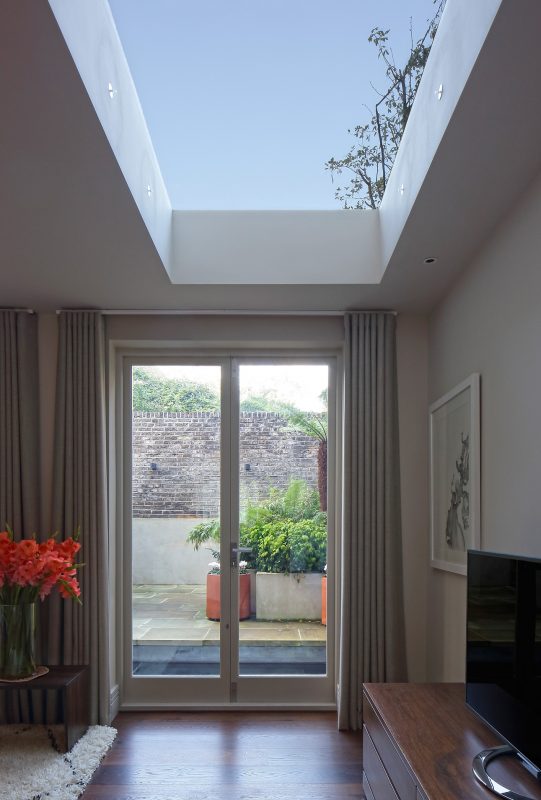 Shape Architecture has built a reputation as experienced basement architects in London, having completed over forty basement projects
Our experience spans all types of basement design from basement projects below gardens, to listed properties, in Mews locations and to flats.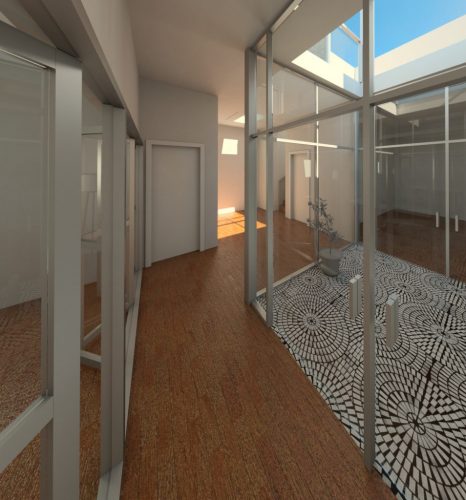 Years of experience in basement design
On this basis of this knowledge we are able to set out what we believe are the ingredients for a successful basement project. These range from the principle issues of light and space, to points relating to the design and construction process of a basement, and the many issues of detail that arise in these projects thereafter.
There are a number of aspects to basement design to consider:
1. Floor to Ceiling Height
2. Location of the Stair
3. Type and Number of Lightwells
4. Artificial Lighting
5. Storage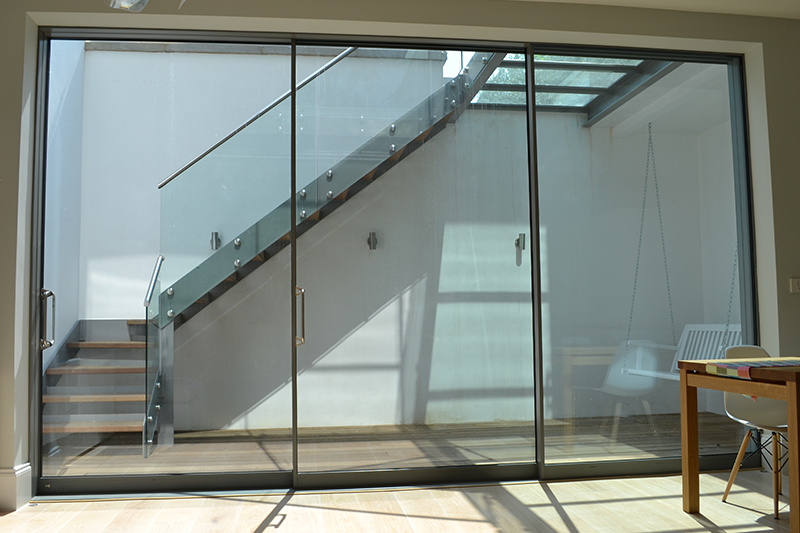 1. The floor to ceiling height of a basement extension is an important decision
Our basement conversions in London vary from 2.75 metres to 3.5 metres. We would say that 2.75 metres should be considered as a minimum height, whilst a figure around 2.9 metres will feel spacious. The feeling of space in a basement project cannot be gauged simply by a floor to ceiling calculation however; a significant factor will also be the number, size, and location of rooflights and other sources of natural light. The proportions and size of each room and the way in which rooms are accessed all play a part as well, alongside colour schemes and the use of artificial lighting. Floor to ceiling height is a good starting point though.
2. The location of the internal stair connecting the existing ground or lower ground floor is very important
The location of the internal stair connecting the existing ground or lower ground floor is very important. Not only is this the means by which the basement extension is accessed, it is also very often a design feature in itself as well as being a means by which natural light can be brought down into the basement. We have explored a number of different locations for stirs in our portfolio of basement extensions in London. For example in one of our Fulham basement conversions we have located a stair in a large void within an open plan kitchen dining space.
Located over the void is a large rooflight and this provides a great deal of light into the heart of the basement and views of the sky from the basement. In another Fulham basement we have located the stair in a glass cube located at the garden edge in order that the basement stair and its enclosure interact with the garden and provide again a great deal of daylight into the basement alongside views of the garden. Other London basements that we have designed and built have stairs that follow the exiting run of stair flights. In various Kensington Mews basements we have also integrated stairs in lightwells.
3. Lightwells can provide light, air, views out, an exit out, and an amenity space
Clearly, they are an invaluable part of every basement conversion and can define the character of the basement. At Shape Architecture we have also designed basements without lightwells that introduce other means for light to enter the basement. Common to many London basement extensions is the garden lightwell.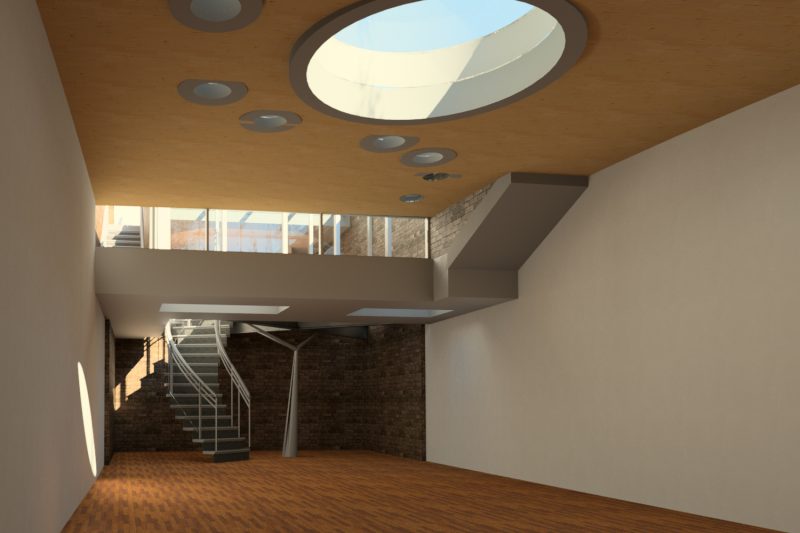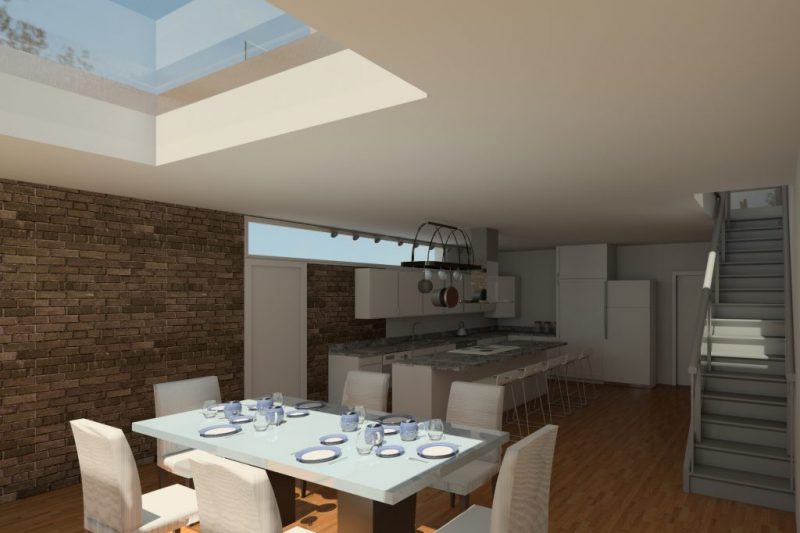 Typically at the basement level a series of sliding doors or bi-fold doors give onto the lightwell
At ground floor level the lightwell is then crossed by a link from the ground floor that provides access to the garden beyond. The type of sliding/folding door is an important choice and this relates to the width of the glazing frame. Narrower frames can be much more expensive than a 'standard' 50mm width.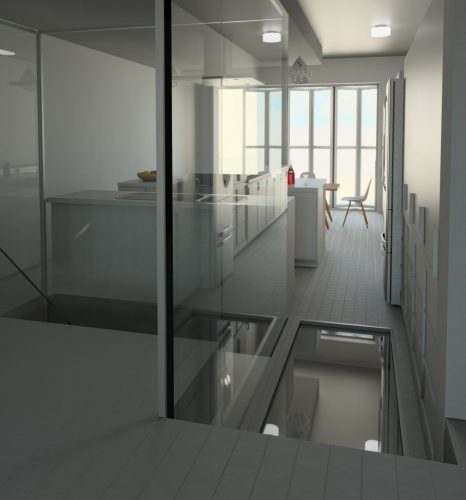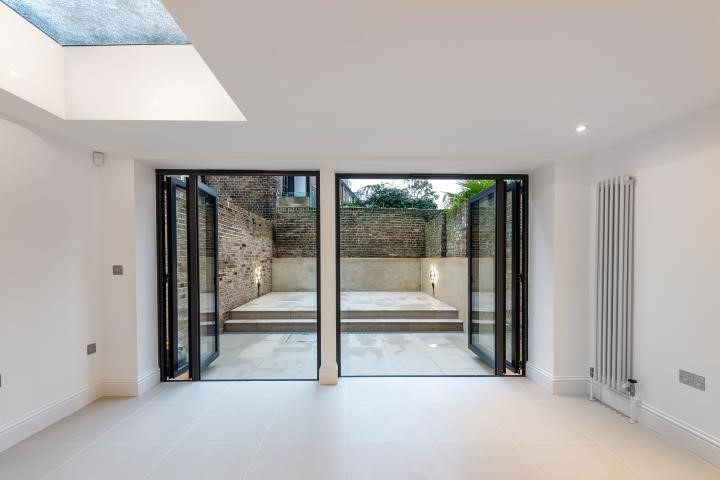 4. A basement extension will benefit greatly from the addition of simple and elegant artificial lighting
Many of our basement conversions in London have featured lighting set around the internal stair, in the garden lightwell, and around feature rooms such as the wine store to great effect. Successful lighting schemes marry efficient lighting with several elements of feature lighting such as an elegant pendant fitting, with the lighting of several architectural features such as the internal stair or a glass bridge. It is also often successful when natural light sources such as rooflights have discreet artificial lighting set into the well of the rooflight.
5. Basement extensions offer a great opportunity to add additional storage to a property
These solutions can range from large storage rooms built under the garden or terrace, to various stores located off the basement circulation space. In several of our London basement conversions we have built storage rooms giving off the lightwell built under the garden which have been constructed as one large room or two rooms with separate access doors. The basement corridor linking the garden to street side accommodation provides an excellent location for various store rooms.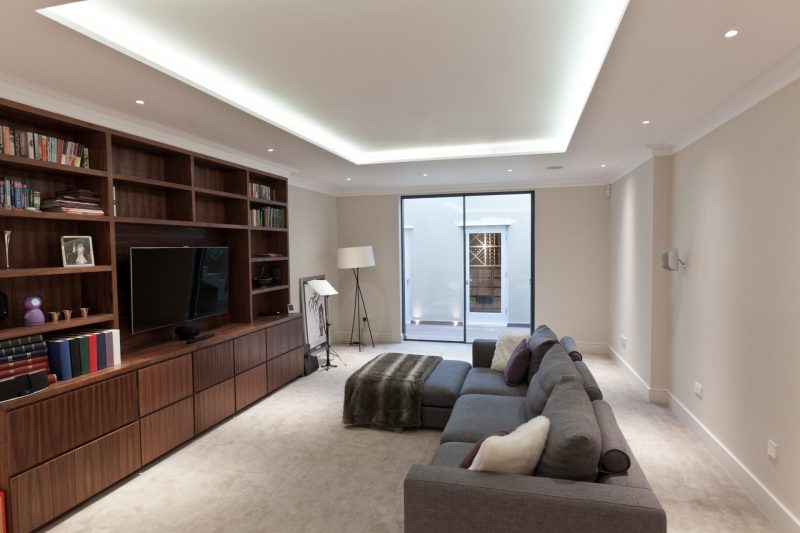 The technical design of a basement conversion is particularly important given the many technical issues involved in this type of building project
The structural design and design of any temporary structure is very important, and it is vital to have a structural engineer who is experienced in this type of project. Equally important is the relationship between architect and structural engineer in ensuring that the building structure and building fabric are well co-ordinated prior to a start on site. At Shape Architecture through the large number of London basement extensions that we undertake, we enjoy good and well established relations with a number of structural engineers.
Keeping water out of a basement extension is equally important
We have encountered numerous different situations in this regard ranging from single storey basements that sit below the water table and double basements that sit considerably below the water table to typical single storey basements sitting above the water table as well as those that have water courses running through them. In all these instances there are well established structural and fabric design approaches to deal with the issue and an experienced design team will be able to design the basement accordingly and draw on their experience to talk the client through the process.
Shape Architecture offer a free consultation
We are always happy to visit you at your home to discuss your project. Get in touch to book an appointment now.
Shape Architecture 
Chester House, Fulham Green, 81-83 Fulham High Street, London, SW6 3JA
Phone: +44 (0) 203 770 6360