Shape Architecture has just obtained planning approval for an extension in Brighton and one in Lewisham, London.  Each has created a contemporary light filled interior out of a series of small spaces.  Both have green sedum roofs.  These applications serve to show the cross fertilisation of ideas on projects in Brighton and London.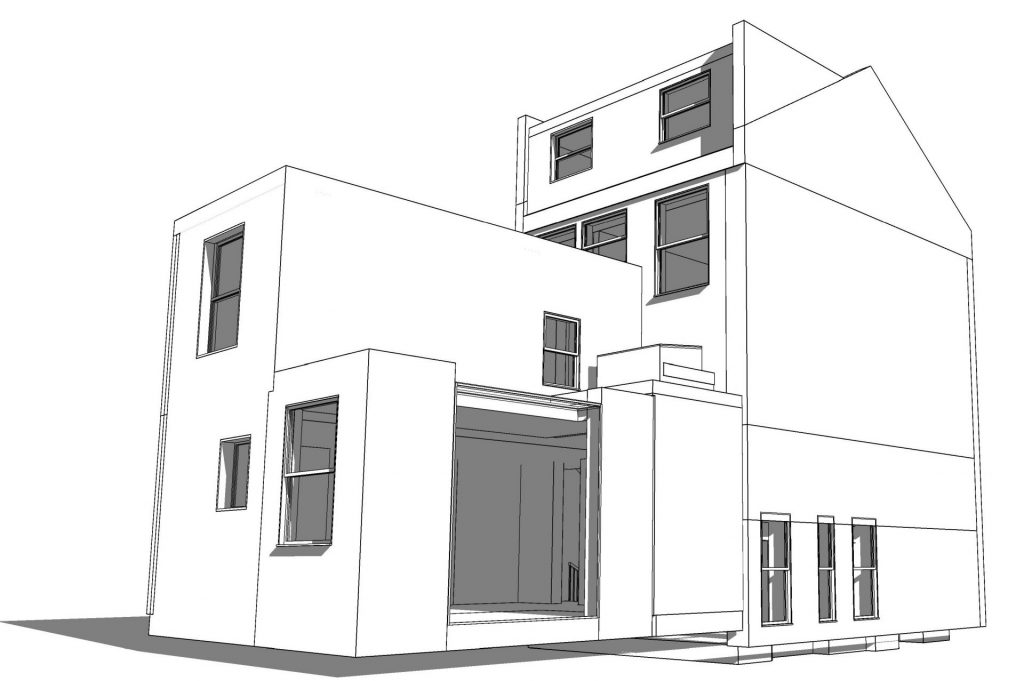 Brighton Extension
This project is located in Rugby Road in Brighton, an area where we have carried out many projects over recent years.  The existing kitchen was poorly planned and there was little or no connection with a lovely garden beyond.  As with most properties of this type there was also an underused side return.  The design proposal was to open up the interior and form a side extension.  The side extension would feature a large format glass window that ran into a rooflight over, with an elegant glass to glass junction.  The roof was also a key concern, albeit small, as it would be overlooked from the rooms in the house and so a sedum roof was specified.  Many of our projects, of all types, feature a sedum roof.  It is easily installed with many benefits, from the visual to the environmental and its absorption of rainwater.  From experience the combination of elegant rooflights set in sedum roofs is always successful.
London Extension
Our project in Lewisham is very similar to that in Brighton.  It is more of a wrap around extension with additional space created to the rear and in part to the side.  The effect once more is to create a large kitchen and dining space.  The addition of a small wrap around also defines a courtyard space, giving onto which will be a cantilevered glass box.  We have designed many such glazed features to our private residential projects.  The wrap around roof is again finished in Sedum and has one large and smaller rooflight set within it.  Giving onto the garden will be a Crittall glazed door assembly.  Internally a series of stepped levels have been removed by exploiting the large floor void that already existed.  This has made for much easier planning of the interior.
Natural Light in and views out
These extension projects always offer the opportunity to create light bright interiors.  This is then reinforced by improved visual and physical connections with the external garden spaces.  Finally the use of high quality materials and this is generally in the glazing and roof covering, should be the last part of a successful project.