Community Architects
Shape Architecture works across a wide range of building sectors and has from the very outset sought this diversity of project type.
One of our first projects when Shape Architecture was established was the Ecoshed in Godolphin Park for the Hammersmith Community Gardens Association [HCGA] and as of writing one of the largest projects we are currently working on is the Community Centre for the Dacon Trust which has just started on site in Colchester.  Working closely with community sector clients is an area we particularly enjoy both in terms of the process and the potential each project has for all parties involved and simply the rewarding nature of such work.
Below are several of our Community Projects that illustrates both the variety of type and scale of project
Ecoshed 01
Ecoshed 01 for the HCGA is a small project that touches the ground lightly.  Built adjacent to a green space and bordering a series of gardens, the building provides a meeting point and storage facilities for a range of activities undertaken by the client with the local community.  A green sedum roof helps the building merge into its garden setting.  A range of recycled product from doors to sinks address its sustainable agenda and the project is a success and wearing well.
Ecoshed 02
Following the success of Ecoshed 01 our client asked us to build a second Ecoshed and this time in the corner of Godolphin Park.  It should follow the same sustainable agenda.  This tie the roof is a rubble roof and this is because in looking to keep its carbon footprint as low as possible we re-used the excavated bricks from bomb damaged houses which had led to the formation of this small park.  It also showed the client body and the community they work with another sustainable roof form.  This time the building was made off site and brought to site on the back of a lorry, hoisted over the tress onto tracks and slid onto its concrete foundations.  Foundations which had been cast in old bins.  All aligned and the building was then finally clad and decorated.
GRA Community Gateway
With an extensive range of experience in community projects across London and the South East, Shape Architecture was invited to design this community gateway scheme in Greatness, near Sevenoaks.
Situated on a prominent street corner, the brief called for a distinctive and interesting design that would act as a gateway landscape for the community of Greatness. The project looks at creating a community gateway and strong identity in a simple striking form.
Southborough Lane
Shape Architecture was recommended to the client by the contractor with whom we had recently completed the Anthony Roper Early Years building.
The brief called for a striking building that would engage with the local community and through its architecture would be a prominent feature on a busy street. It should incorporate a large activity space with a linked kitchen and servery, and also a second area containing a number of offices and ancillary accommodation.
Peacehaven Community Centre

This community project is located in Peacehaven next to Brighton.  As with other sit utilises a fairly small parcel of land and in this instance, it is land to the rea r of our client the House Project's shop.  We obtained planning permission for a two-storey structure on this suburban setting.  The building provides two large community use spaces with supporting kitchenette and back of house services.  Underfloor heating is linked to an air source heat pump and many rooflights and windows provide natural light to all spaces no matter what the function.  The stair is a particular feature of the project and it is flooded with light.
Mar Thoma Community Centre

Shape Architecture was selected to take this project on from a planning permission to detailed technical stage and then onto site and completion.  During this process we also submitted several new planning applications in respect of client changes to the existing approval.
Colchester Dacon Trust Community Centre
This project is just starting on site in Colchester for the Dacon Trust.  It takes an existing building and a prominent corner site that has been used for various commercial functions over the years and adds a number of single and two storey extensions to create a single building where the charity can locate all its functions. The building will house an art gallery and art teaching space, a café with commercial kitchen and number of classrooms and also various offices and other support spaces.  The project has much potential land we look forward to the finished building.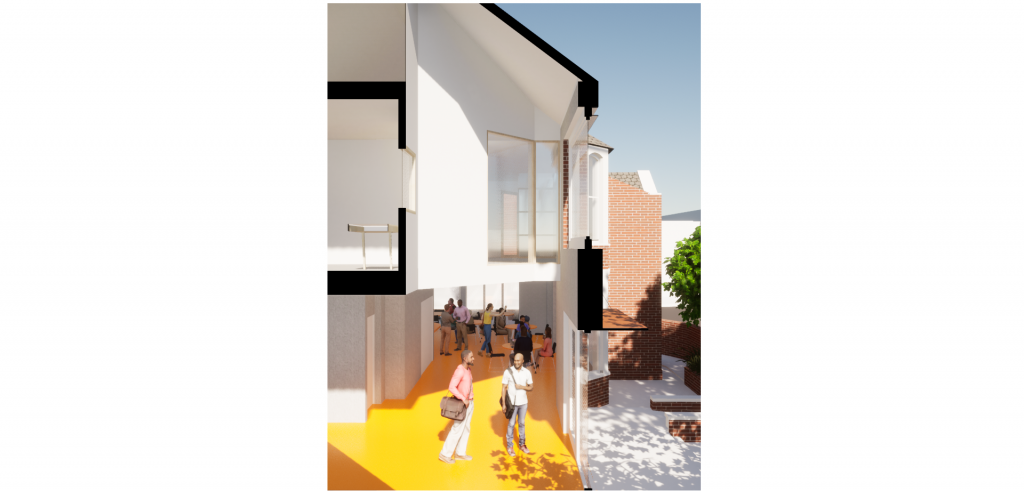 Triple height art studio
The rewards of working on a community project
Our experience of working on a wide variety of community projects is that there is a great potential for the client body and the community they serve and as a designer there is also so much potential too for a rewarding and enjoyable experience and that is our approach to community project architecture.
As architects we are enthusiasts and flexible.  We realise that a simple 3D sketch accompanied by a description can be a useful staring point to assist a community group in their project.  We particularly enjoy being involved in community projects in this way.  At the earliest stage we might be involved in helping write the brief on the basis of understanding what it is the client needs, they are the experts here. And what we, through our experience understand that a site or building can deliver for the client.
At Shape Architecture we offer a wealth of experience in community projects.  We listen and we are patient.
Good community engagement
As funding moves forward, as the design develops good community engagement is important.  We produce images and presentations that assist our client in their work at this stage.  We will always be there to support our client in whatever way can most assist them in their work.
Such engagement with the community and other interested parties is also key as the project progresses on site.  As at all stages of the project there is a wealth of interesting material and things to explain that the community architect can help with.
Frequently Asked Questions
What is the role of an architect in community projects?
An architect working on a community project will provide a normal service.  They will be more used to being briefed by and communicating to a client body.  A community architect should also produce a lot of visual material in a way that all parties can understand as the design develops to ensure a proper dialogue.  This is often also material that is used to update the wider membership of a community group and other interested parties.
Are community projects sustainable?
We often find that a brief for a community project includes the requirement to address issues of sustainability and to produce a green building.  Shape Architecture has a great deal of experience in such an approach also across a variety of sectors.