Following on in our series about Environmental and Community Responsibility, it would be fitting to dedicate a post to our Eco Shed 01, which we visited and photographed yesterday while the sun was out. Now some fifteen years old, this recycled and up-cycled building is wearing well.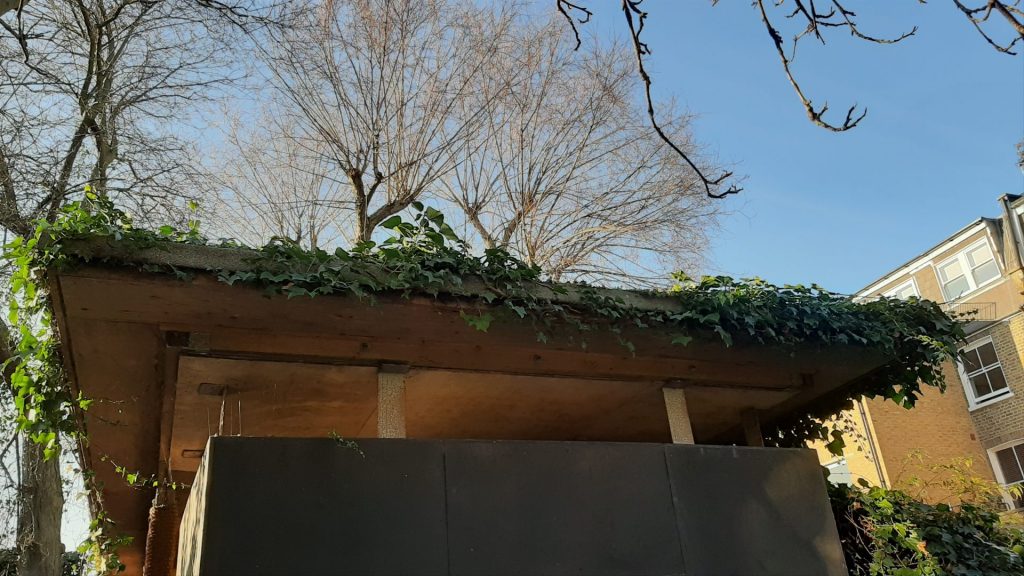 The photograph catches the storage zone for gardening tools. This storage zone is a painted black ply shroud that is suspended from the roof and does not touch the ground, reducing the extent of foundations required in this project as much as possible.
A sedum roof extends over the Ecoshed 01 which is set at a gentle rake.  One of the most successful spaces in this small building is the terrace set below the roof where the gardeners can sit and chat next to the meeting room.
Following the success of this Ecoshed, Shape Architecture went onto design Ecoshed 02 for the same client in Hammersmith. We will visit this project soon and take some photos.
Ecoshed 01 and Ecoshed 02 have always been important projects to us as a practice, given that they are small but with big hearts.  A lot happens in each and they both follow an interesting sustainable agenda.  We very much enjoyed working with our Clients on these projects and also with EcoLibrium, our Contractor for both.