Fulham Architects
As residential architects in Fulham, Shape Architecture brings its expertise in transforming properties of all types and size ranging from a simple loft conversion to complex basement extensions.   Established in 2006 we enjoy longstanding relationships with local Contractors, Engineers, Planners and Building Control.  All of which contributes to the success of our projects.
Below we have highlighted a range of residential projects we undertake in Brighton and Hove.  Common to all is the creation of elegant contemporary spaces.
Basement project in Fulham
Shape Architecture has now worked on 17 basement extensions in Fulham and more than 30 across London.   The success of our basement projects is underpinned by this wealth of experience coupled with the longstanding relationships with local contractors, engineers  and many other suppliers and consultants alongside local planning authority and building control.  Our basement extensions are filled with light and importantly integrate well with the rest of the property and garden spaces.  A particular feature is the design of elegant staircases variously in a glass cube as in Hurlingham Road and St. Dunstans Road or under a large rooflight acting serving to bring more daylight int the basement as in several projects in the Alphabet streets.  Our basement extension in St. Maur Road is about to start on site and this has benefitted from our experience in such projects both in terms of the design and the technical detailing.

Roof terrace project in Fulham
Shape Architecture has a large portfolio of roof terrace projects throughout London including a number in Fulham.  This is an ever-growing part of our portfolio of projects.  In Danehurst Road we gained planning permission for an built a roof terrace to a duplex flat inn a terraced house.  Adding external space to this flat transformed it for our clients.
Garden Rooms in Fulham
In much the same way as our range of roof terraces in Fulham and throughout London has grown so has our work on bespoke garden rooms.  In St Stephens Road in Hammersmith we gained planning permission for an extensive garden studio with a fully enclosed glazed link back to the house, wide enough to sit in.  A series of distinct have been created with an interesting roofscape that combines green sedum roofs with a variety of large scale rooflights.  We are presently on site with a garden studio in Acfold Road in the borough which is progressing well. 
Side extension in Fulham
We undertake many side extension projects in Fulham either as a project in its own right or as a part of a large remodelling of the house.  In St. Dionis Road we added a largely glazed side extension I which coupled with the opening up of the interior has created an elegant contemporary kitchen and dining area.   
Wrap around extension in Fulham
We also undertake many wrap around extensions in Fulham.  These have the advantage of creating a large area of new roof which can be finished in glass or sedum and will flood the interior with light.  We are soon to start on site with a wrap around extension in Winchendon Road in Fulham and the 3D computer modelling clearly shows a space filled with natural light.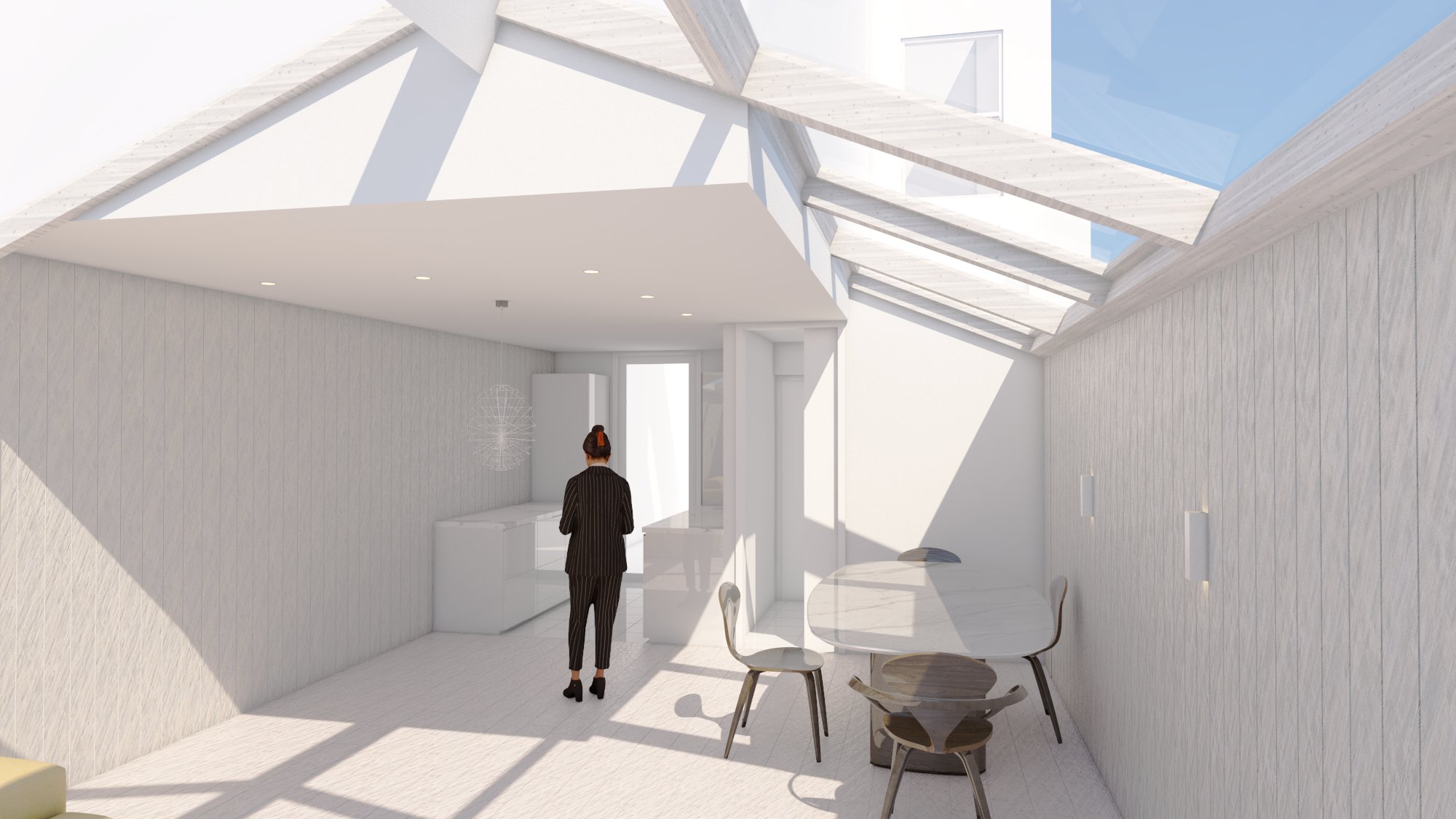 Duplex flat refurbishment in Fulham
On Fulham Road at Cavaye House with have completely remodelled and extended to duplex flat providing increased space and a valuable roof terrace.  The remodelling of internal spaces and creation of others such as walk-in-wardrobes and en-suite bathrooms formed a large part of this project.  We have much experience in designing bespoke furniture and the design of bathrooms and which helped in the success of this project.
Rear extension in Fulham
We design many rear extensions in Fulham.  All add valuable space that enables an open plan kitchen and dining room to be created.  At our rear extension project in Knivet Road in Fulham glimpses of the light filled space can be had as soon as one enters the property having designed stairs with open risers.  The space then fully opens up and gives onto the garden.  This is a transformation from the uninspiring range of small rooms that we first encountered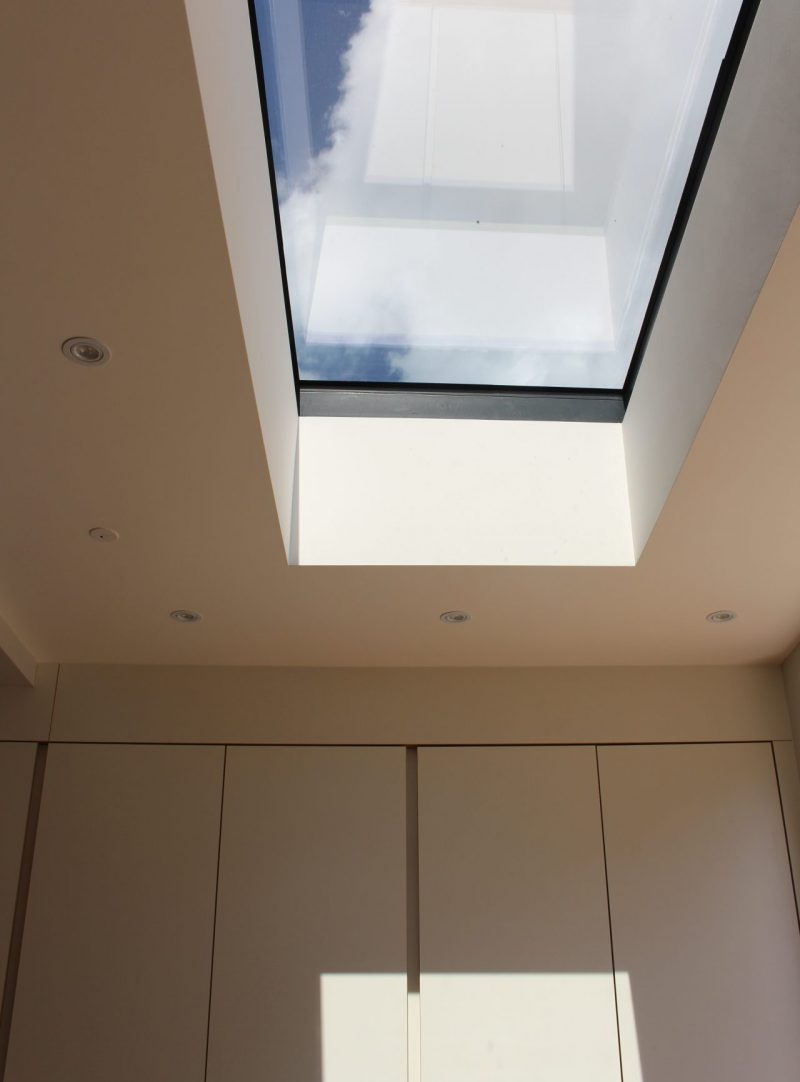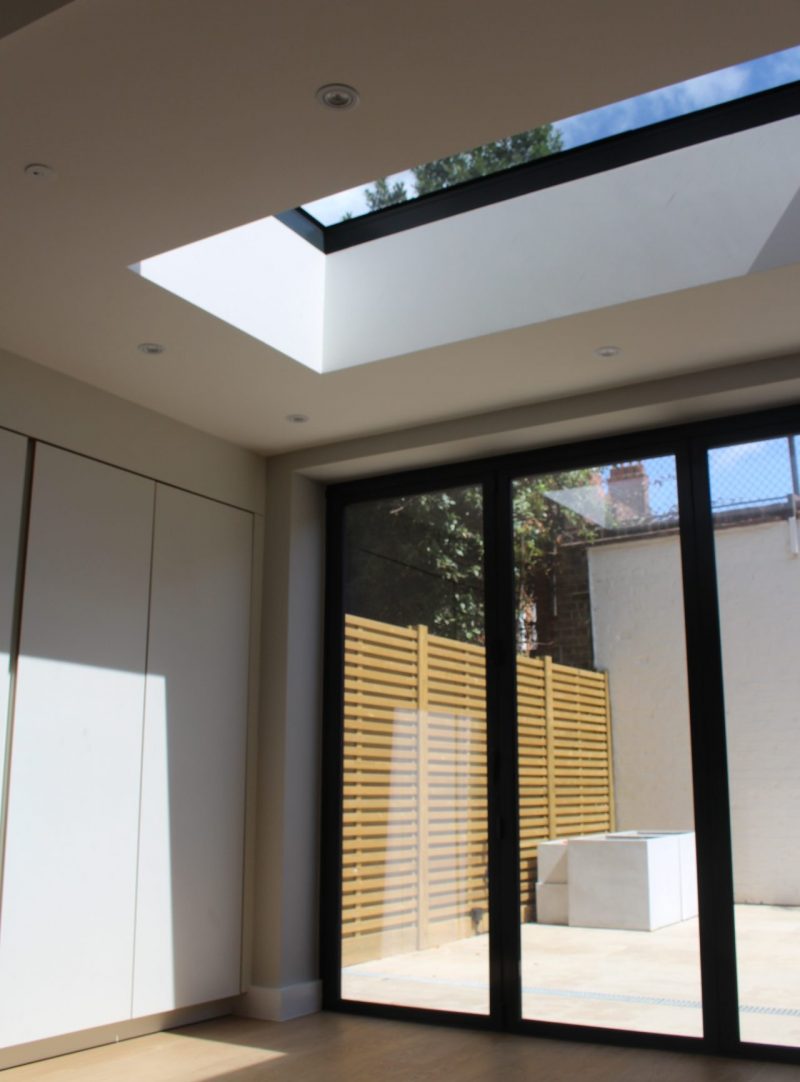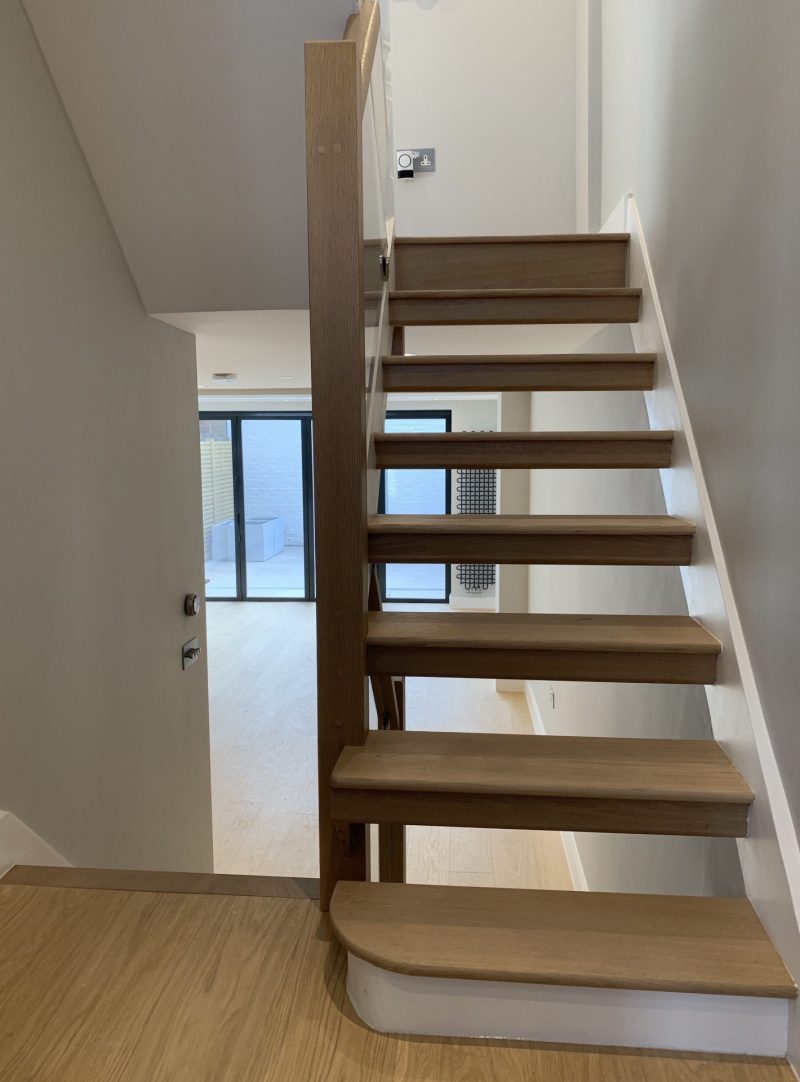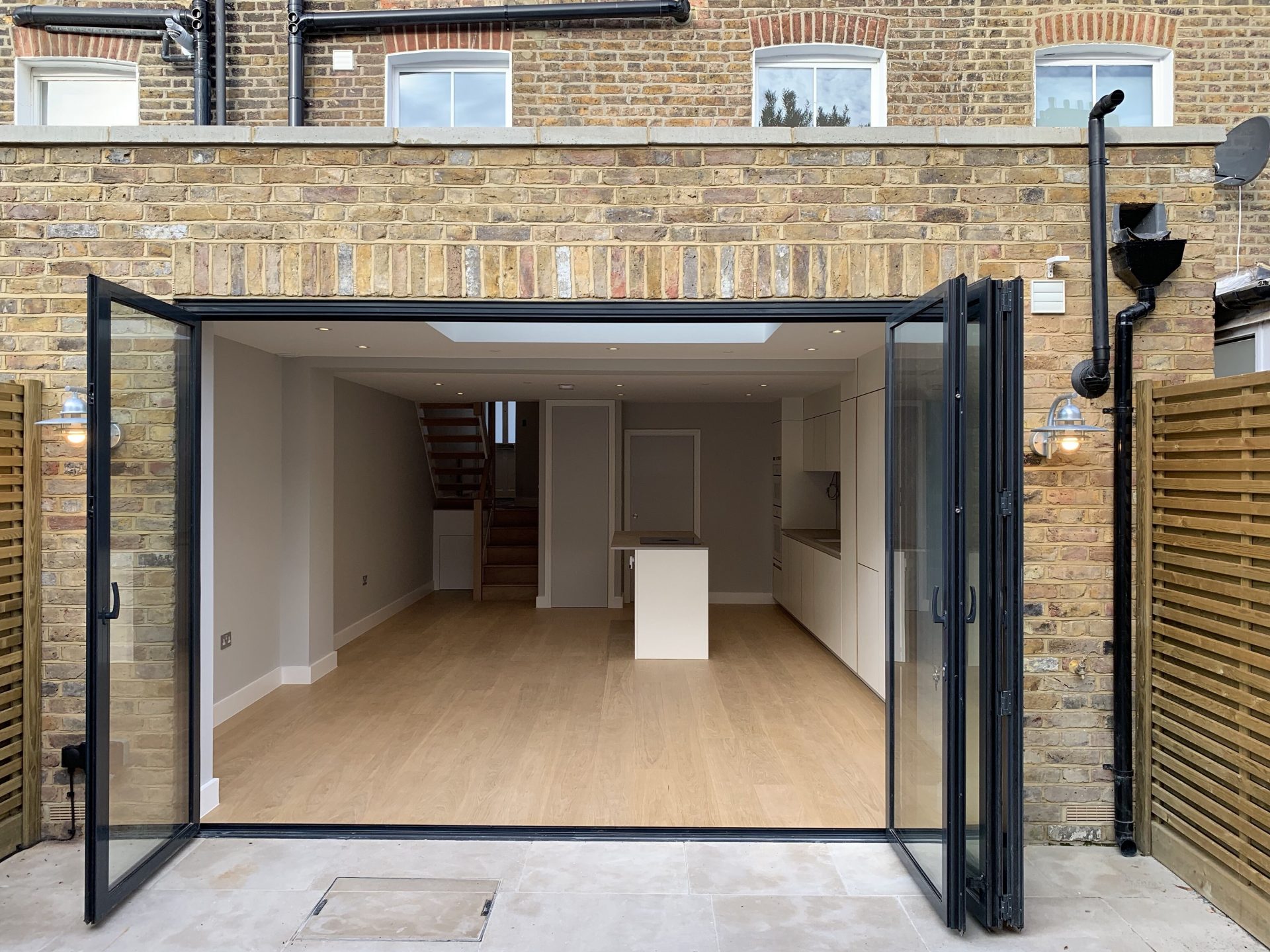 Conversion of flats into House in Fulham
Quite a few of our projects in Fulham involve the conversion of a house divided into flats back into a family home.  One successful example was at Queensmill Road and our basement extension at St. Maur has been divided into flats and will now become a large family home.   
Pod room extension in Fulham
As with the variety of extensions we undertake we carry out pod rooms throughout Fulham and once more these are either small projects in their own right or else part of larger works.  They serve to house small bedrooms, Bathrooms or act as study spaces.  A large rooflight always helps light the interior and give the sense of more space.
Loft conversion in Fulham
We have carried out many loft conversions in Fulham which typically add a good size bedroom with ensuite.  A large part of our basement projects also incorporated loft conversions and also pod rooms.  Many have been projects in their own right. 
Fulham

Extensions

 

 
If you have an extension project in mind in Fulham, no matter what the size please feel free to contact us at Shape Architecture.  We would be happy to visit you to discuss the potential project and explain the process of working with an architect.