Fulham Architects: What's on the Drawing Board
Below we list a number of Fulham projects currently on the drawing board.  Some are at planning or pre-planning stages; others are at technical development and several are about to start on site.
Fulham Basement Extension at St Maur Road
Our latest basement extension in Fulham is about to start on site.  A Contractor has been selected via a competitive tender process.  We care now completing the party wall process, firming up the preferred Contractors quote to ensure it includes all aspects of the schedule of works and completing the  building contract on behalf of our client.
Fulham Wrap Around Extension at Winchendon Road
This wrap around extension is now out to tender and Contractors are visiting the property as they work on their tender returns.  The project adds a glazed roof extension to transform the existing small kitchen and bathroom.  Our 3D models illustrate how the interior will be flooded with daylight.
Fulham Side Infill Extension at Gastein Road
We have obtained planning permission for this side infill extension in Fulham and are now developing the detailed technical set prior to going out to tender.  The addition of the side infill extension and its detailing with extensive use of glazing has transformed the ground floor kitchen and dining room.  As with many of these projects, design work has also been carried out at other levels of the house to improve a variety of the rooms both in terms of layout and finish.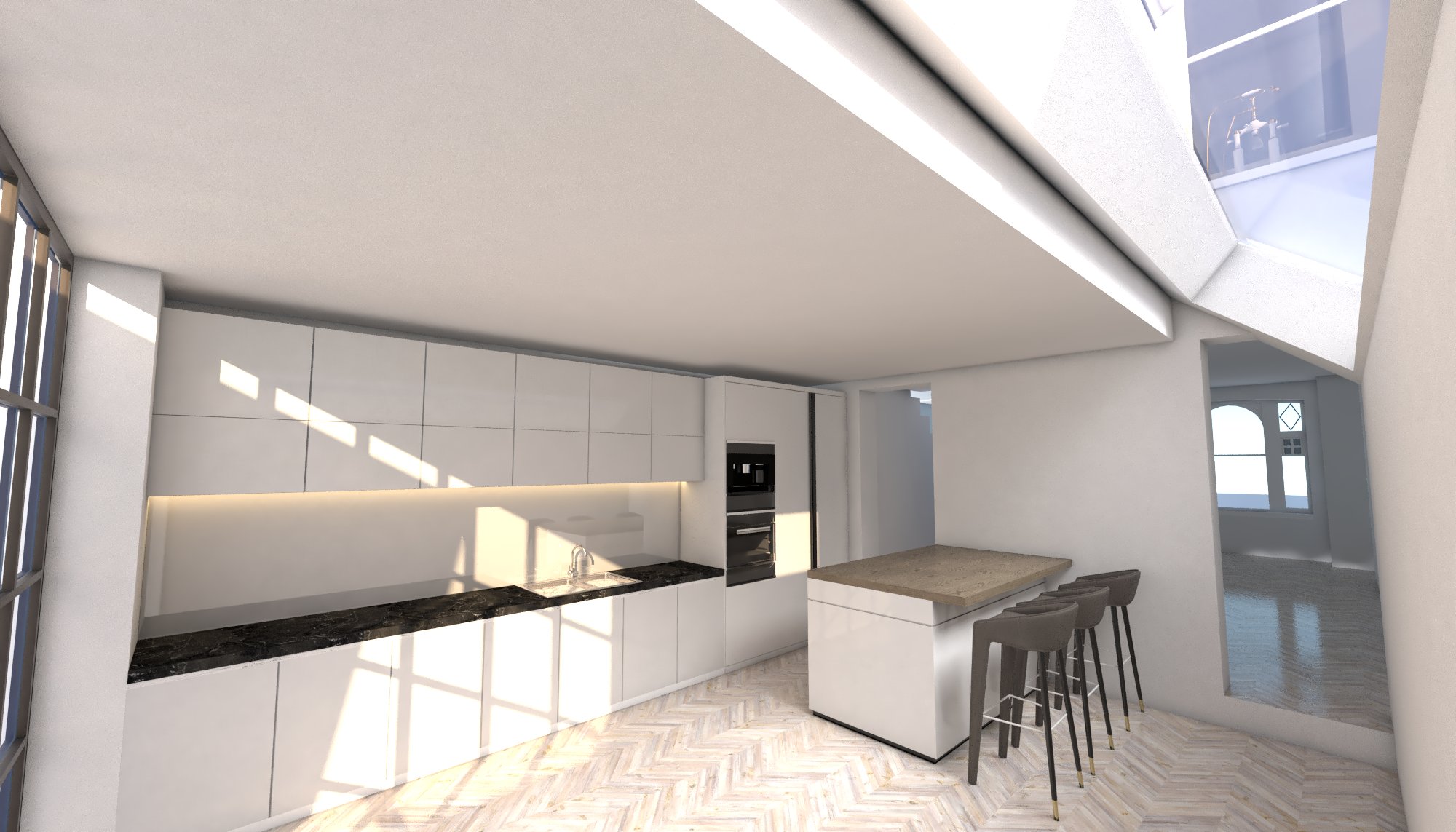 Fulham  Mews Scheme
Working with a local Fulham Developer we have recently designed a scheme for three new news houses and two terraced houses off Dawes Road.  The project has been explored at an early stage with 3D massing studies.  This has now been supplemented with a series of floor plans and a pre-app application has been submitted to the local planning authority in order to obtain value feedback to inform the next steps.
Fulham Shop to Flats at Dawes Road
This project in Dawes Road sees the addition of a basement and conversion of a shop to create two new flats.  Shape Architecture was selected as the architect for this project on the basis of the volume of work we carry out on this area, plus our portfolio of sixteen basement projects in Fulham.  We have now surveyed the property and provided a series of four design proposals to our client, which we have discussed and then developed further. The next step is the submission of a pre-app application to gain valuable feedback from the planning authority which will inform the final design.
Fulham Garden Studio at Acfold Road
Our garden studio in Fulham is just about to start on site.   This project takes an existing poorly constructed garden room and transforms it into a well constructed, elegant and light filled structure.  New well insulated floor, walls and roof are created.  New rooflights are added to flood the interior with daylight.
Fulham duplex apartment refurbishment at Dawes Road
This is an interesting project at an early stage.  The duplex requires modernisation throughout and will also benefit from the addition of a rear extension for which a planning application will be submitted.  We have visited site and carried out our survey and are now putting together a series of survey plans, elevations and sections.  We have also made a 3D computer model which will be developed to explore a variety of design options.
Click the thumbnails below to link to the respective project pages