Shape Architecture is now working on its fifteenth Fulham basement extension
Having now worked on over 30 basement extensions in London it is in Fulham that our first basement project was carried out.  This being in Ellerby Street.  Two more then followed near to each other in Hurlingham Road and Broomhouse Road and then two further in Ellerby street.  All have been awarded through Client recommendation.  From this point on we have worked continuously on basement extensions in Fulham.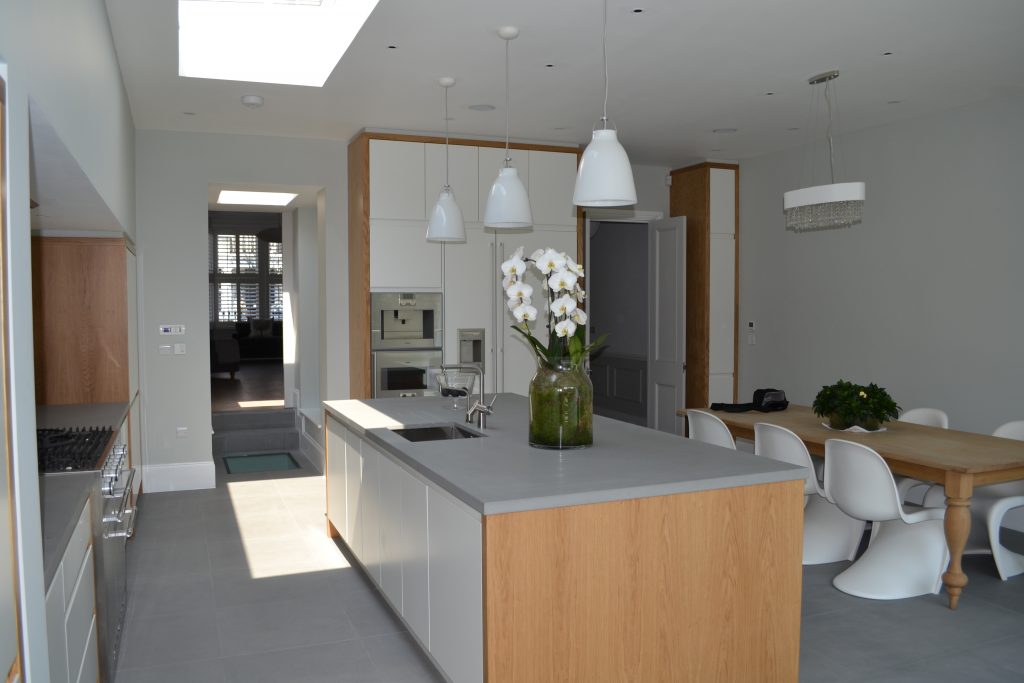 These projects continue to be awarded through client recommendations but also via recommendations of engineers, contractors and clients viewing our extensive portfolio on line.
Once a potential client contacts our office a practice Director will visit them at their home to discuss their potential basement project, explain the process and point to relevant examples in respect of other Basement projects in Fulham nearby.  There is no charge for this visit.  Following this we will write to the potential client clearly setting out what we understand the brief to be and setting out our services and proposed fees.
Our fees are quoted as a fixed lump sum plus vat.  They are then divided into the various activities such as Surveying, Design and Planning and Technical Design in order that our clients can decide how much involvement they wish us to have – as if choosing from a menu of activities.
Having worked on so many basement projects in Fulham and many more in adjacent boroughs and throughout London we are able to offer the reassurance of expertise and experience.  We have designed basements below gardens, to listed buildings, to ground floor flats, in tight Mews settings, as single projects or as a part of a whole house project and set against the variety of criteria set by many different London boroughs.  Coupled with this is the weight of experience of working in Fulham on projects of all types.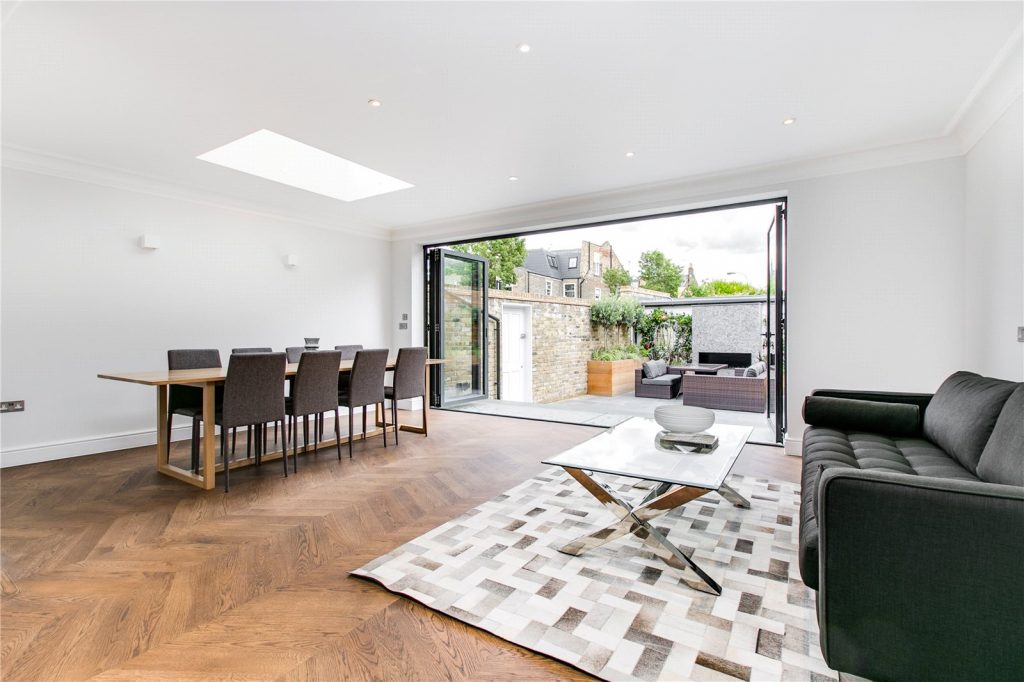 Below we have set out the principle issues affecting basement design that contribute to a successful project and we do so via our Fulham portfolio of basements.
A key issue is the use of natural light in basement projects.  A successful basement design incorporates natural light from a variety of sources, diverse in both size and location.  In Ellerby street several of our basement extensions incorporate a middle light well in addition to the front and rear light-wells.  This ensures a great deal of natural light and vent is brought into the heart of the basement.  In another project in Ellerby Street we have set the feature staircase linking basement and ground floor below a large Rooflight.  This too serves to bring a lot of daylight into the basement level and also provides views out from the basement of the sky.
How do I tank my basement
When a client asks how do I make my basement waterproof we understand that this is a question of great importance.  It is though a function of specifying a tried and tested product that is installed by registered installers and comes with the appropriate warranties.  Shape Architecture having built so many basements has excellent working relationships with several of the leading basement tanking companies and work to their standard details.  We liaise directly with their technical department should we need assistance in any aspect of detailing and specification writing.
How do I create a contemporary open plan interior ?
Many of our Fulham basement extensions feature an open plan space.  This can see the kitchen, dining and living spaces integrated together and often incorporates the basement stair.  In opening the plan up in this way large, light bright and contemporary interiors can be created.  We have though moved away from what Building Control require in terms of fire protected corridors and hallways into which to escape.  The solution is to incorporate a domestic fire sprinkler system and this is quite common and acceptable to Building Control.  Our project in St Dionis Road in Fulham is fully open at ground floor, as us our basement project in St Dunstans road which also features a stair opening directly onto the kitchen.  In each instance a domestic fire sprinkler system has been installed and accepted by Building Control.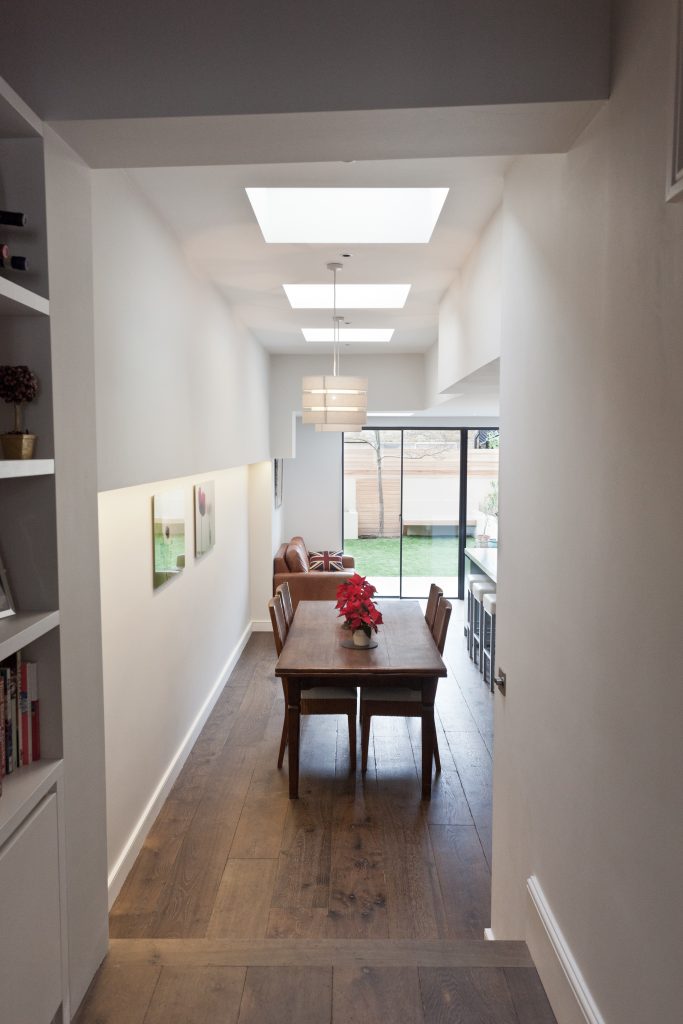 How do I integrate my basement extension with the rest of the house?
No basement extension should sit apart from the rest of the house.  An integrated design will see the basement extension opening upto the level above and the garden beyond.  Feature staircases help integrate the basement with the ground floor level as do other approaches such as structural glass panels set in the floor.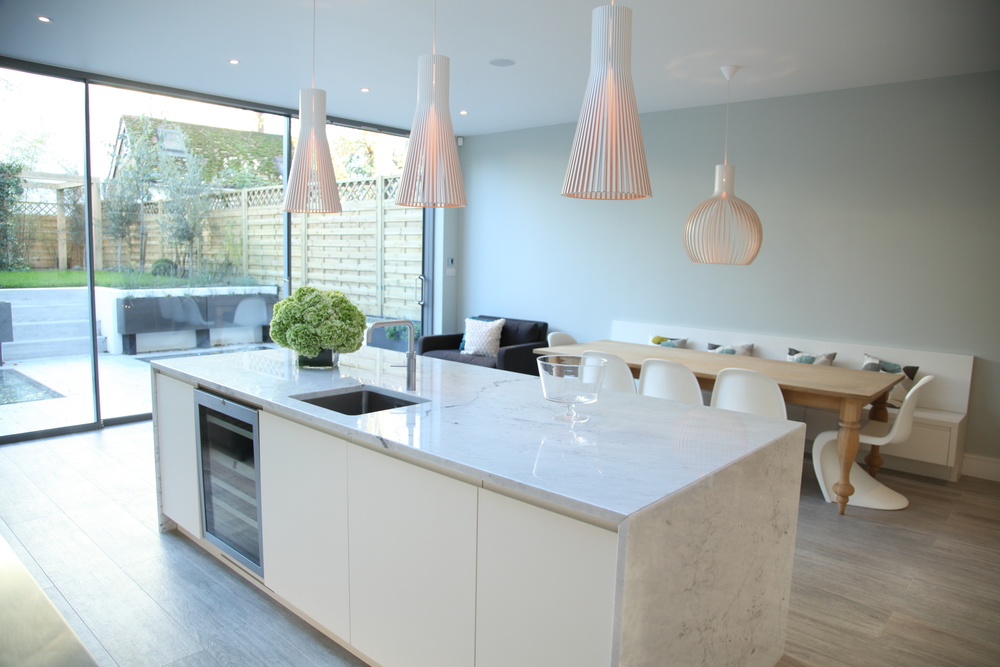 How do I link a basement extension to the garden?
Linking the basement extension and works to the ground floor to the garden is an important part of a successful basement project.  The physical link between the rear lightwell  and the garden is achieved through a flight of steps.  These can be done in any number of ways.  In our basement projects in Fulham we have variously designed one flight of steps at the side of the lightwell stretching into the garden.  Also an elegant steel and glass stair linking to the glass bridge over the lightwell.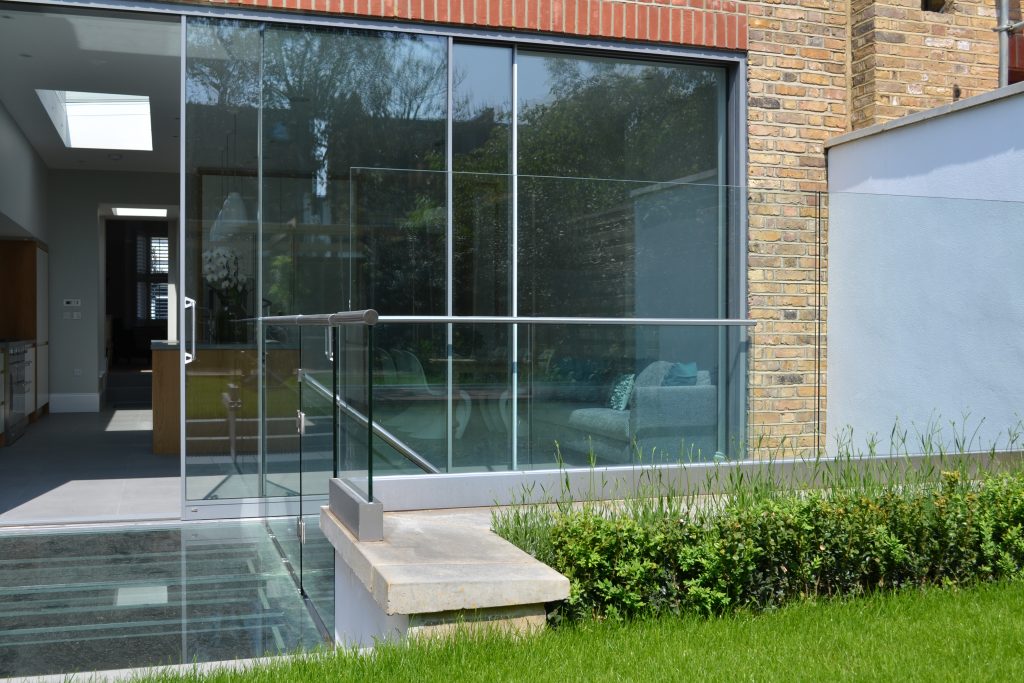 How do I design my basement plan layout?
In our portfolio of Fulham basement extensions no two plan layouts are the same.  Each responds to the particular needs of the Client, budget and site constraints.
At basement level a typical approach is to create a large family room at the garden side of the basement and this opens up onto the garden lightwell for fresh air, natural ventilation and access to the garden.  The street side of the basement is often set as a media rooms with ancillary rooms and gives onto the front lightwell for light and vent.  The middle section of the plan is then often occupied by a variety of spaces such as a Utility Room, Small Plant Room, WC, Wine Store and storage.  But as we have said above, the location of the stair, the addition of a middle lightwell can allow different types of spaces in the middle of the basement floor plan.