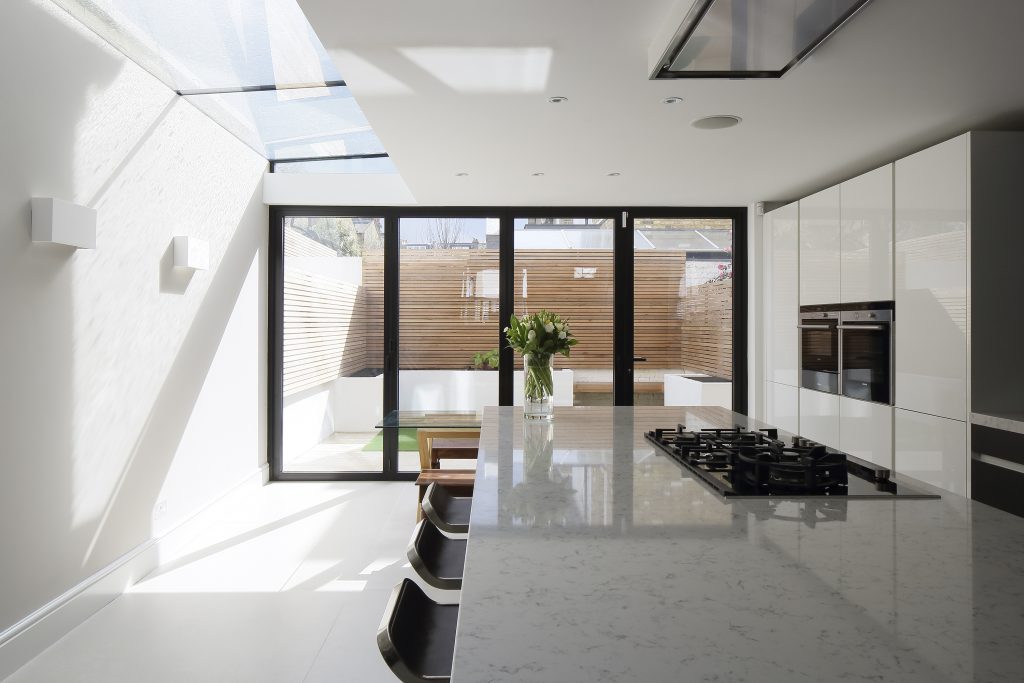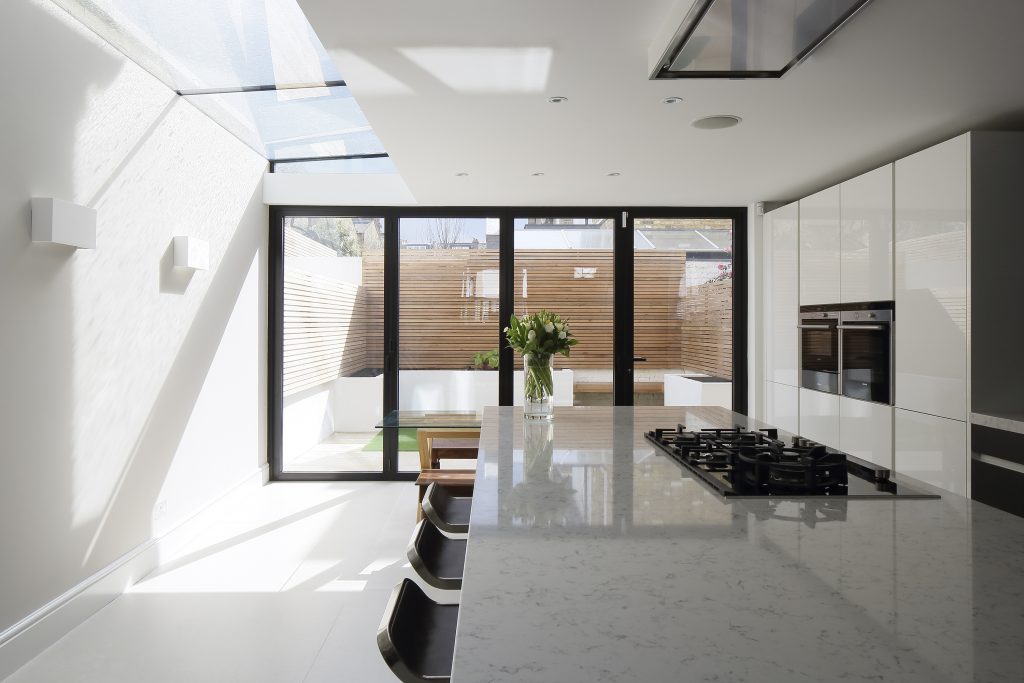 There are a number of simple key decisions to make when designing a side extension or rear extension to your property to ensure a successful project.  Below we discuss a series of these key points and illustrate then with a number of our projects.
A side or rear extension offers an opportunity to fill  the interior with natural light and provide views of the garden and sky.  There are a wide variety of bi-fold and sliding doors available to purchase and  a number of which can be bought with slim line frames that reduce the frame width from the typical 50mm to around 22mm and as such result in less obstruction to the views out.  The approach of not dividing the opening up into too many sections equally reduces the number of vertical obstructions and sliding doors often provide a good way in which unobstructed views of the garden can be achieved.  Door opening methods also include pivot door systems which tend to be more expensive.   Many projects are using Crittall frames because of their narrow glazing frame section and the aesthetic quality of the screen.  The integration and alignment of roof light with glazed doors onto the garden is an important consideration in the use of natural light and one which can create a visually balanced composition and ensure the interior is flooded withlight.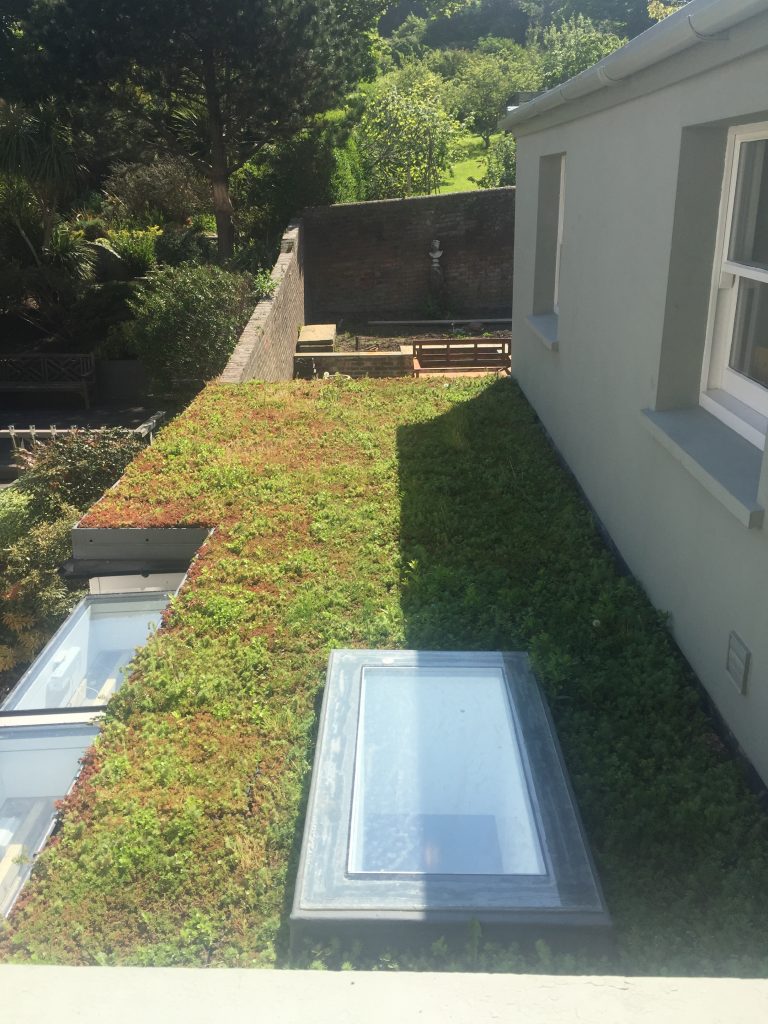 The roof to a side or rear extension can be finished in a variety of ways and incorporate a wide range of rooflights.  The composition of the roof when viewed from above is an important feature.  At our project in Hastings where the garden backs onto the South Downs, the roof is a green Sedum roof and as such merged into the garden and the overall green setting.  Set within the roof are several rooflights lighting both the dining space below and via a light shaft the basement level below ground floor.  Other roof finishes include GRP with a coloured gel coat and this can also look simple and effective and serve to provide good waterproof detailing.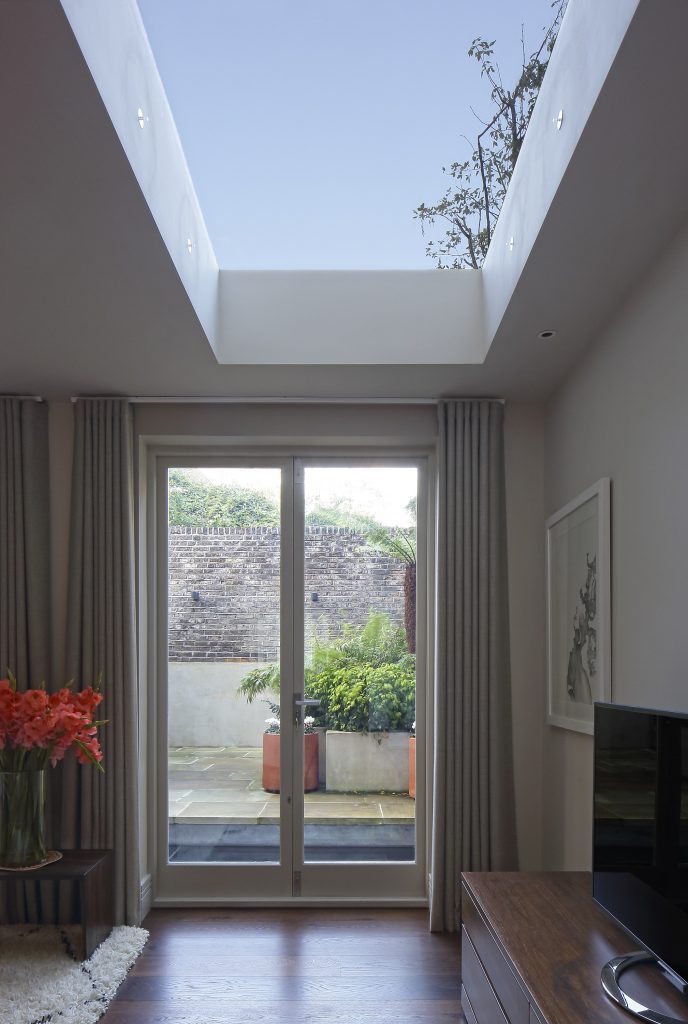 The integration of a rear extension with the garden beyond is an important aspect of a successful rear extension project.  This both relates to the visual and physical connection between these two spaces.  in practical terms any glazed screen and door installation must be well balanced such that the door sections are easy to open with robust ironmongery.  The extension of the floor finish from the interior into the exterior is a reliable way in which the two spaces can flow into each other, as is the composition and design of the garden in terms of how it relates to the interior layout.  Very often in London the garden is relatively small and is designed with hard landscaping, feature seating and lighting in the form of an external room and this works well.  Many of our Fulham extensions or extensions in Chelsea have taken this approach.