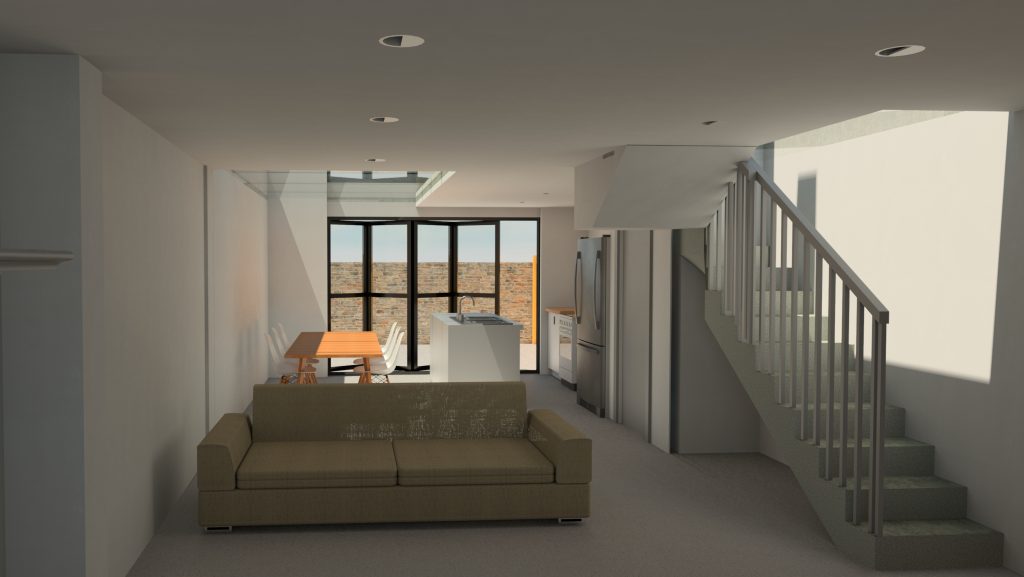 Shape Architecture is about to start on site with our Kensington  extension project at Edge Street.
This project incorporates a side infill extension alongside the opening up of the interior to form a large bright contemporary space with excellent connection with the small garden beyond.  An enlarged existing second floor creates a master suite giving onto the existing terrace.
A key feature is the roof to the infill extension which is formed entirely from glass.  This will flood the interior with light and provide a sense of openness throughout.  A number of Shape Architecture projects have set large format  Rooflights in the side extension roof and then treated the roof with a visually appealing finish ranging from green sedum roofs to part glazed or fully glazed.
This project is a good example of how a house with a smallish footprint can be opened up and filled with light.
As with all of our projects 3D computer graphics have been used extensively to model a variety of options for our Client and this has been particularly useful in describing how various elements sit in one large space and the impact of views through Rooflights and views onto the garden.