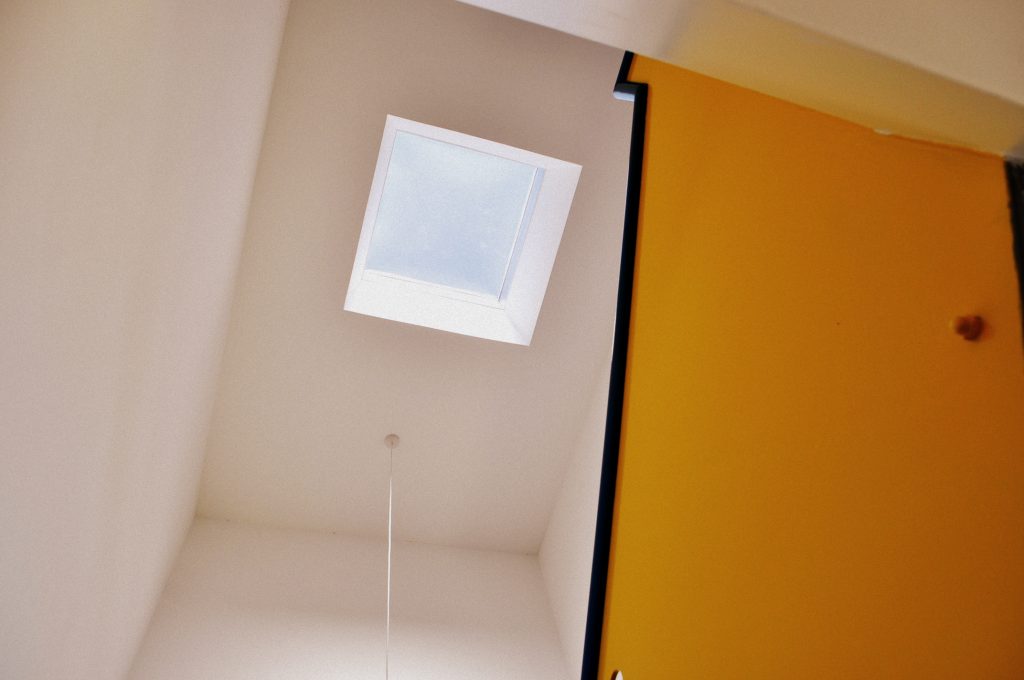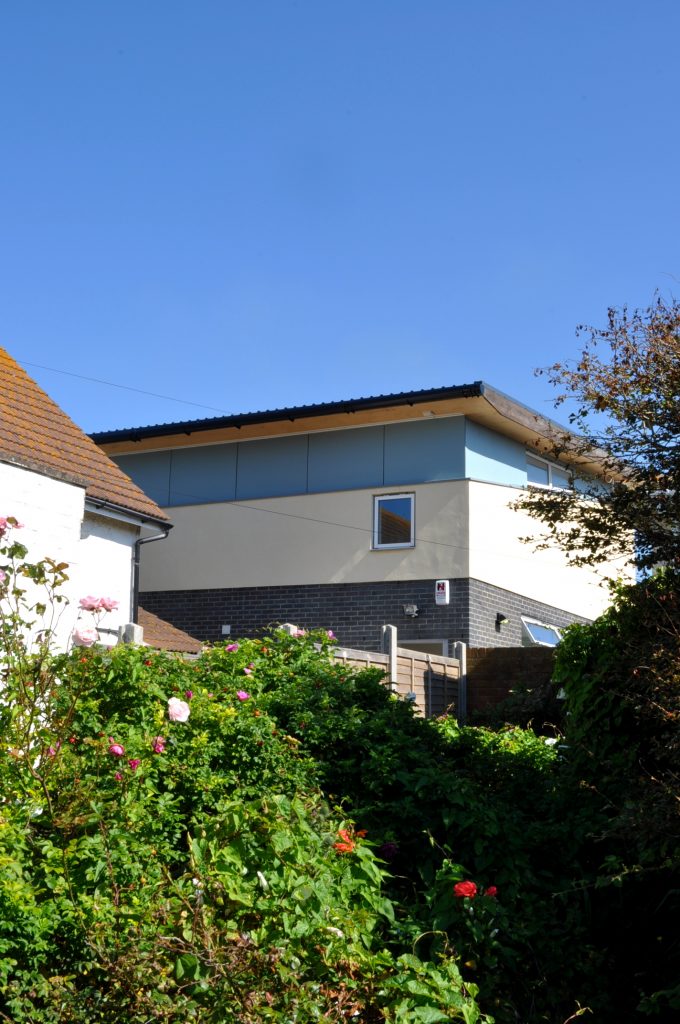 Community Architecture
As we review approaches to design that have looked at the use of natural light, glazing and roof lights, the design of feature stairs and sustainable design, our community project at Peacehaven in Sussex is referred to each time in the successful way in which it incorporates this approach to create a striking two storey community centre on land to the rear of the shop owned by our charity client The House Project.
Community Buildings
Despite the tight site that the community centre occupies the building is full of natural light and has a light, bright spacious feeling to its interior.  In large part this is achieved through a diverse range of glazed windows, panels and rooflights.  On approaching the building the most obvious feature is the two storey glass panel set in front of the feature stair.  This serves to flood the entrance hall and public stairway with natural light as a practical and aesthetic measure.  The stair itself with its light bright yellow and contrasting grey soffit is an immediate feature of this building in a simple and elegant composition of materials.  The stair itself is then further lit with a rooflight over.  Giving off the stair are a series of glazed panels that form the entrance into the various activity rooms and serve to borrow the light from the entrance hall.  The upper level activity room is further lit with a large number of rooflights and high level glazing to each side elevation.  Likewise the ground floor activity room benefits from high level glazed strips.  Internal spaces such as WC's and Stores are also lit by rooflights.  The building is flooded with natural light.
Sustainable Community Buildings
A key measure in approaching the sustainable design has been the use of natural light as described above.  The building fabric is then very well insulated.  The energy required for the space heating of the spaces is derived from an air source heat pump.
The feature stair in a Community Building
In this project as with many of our others, be they private residential or community projects, the stair is designed as a key feature of the building.  A colourful and well composed object.  It is located in the most prominent position internally and then linked to one of the key elements of the facade in the form of the two storey glazed window.  Its geometry is relatively simple and it is then finished in contrasting yellow and dark grey distinguishing the balustrading from the stair soffit.  The balustrade then has a number of simple holes drilled through it to provide further articulation.
The roof form
The roof is a simple angled monopitch roof with a projecting eaves soffit lined with birch faced ply.  Within the roof is a large number of rooflights.  The material is a profiled metal for long life.