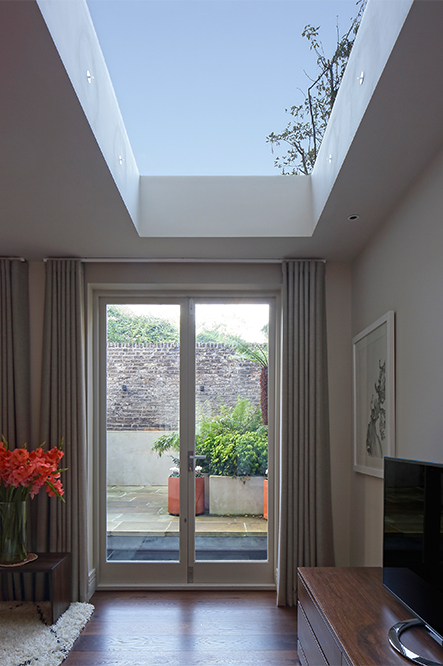 Private Residential Architects in Wordsworth
Working as private residential architects in Wandsworth, Shape architecture undertakes a wide range of projects both in terms of location, size and type.  This diversity reflects the practice's overall approach of working in a range of sectors.  Our Wandsworth portfolio ranges from internal refurbishment projects to large scale basement extensions, pod rooms, ground floor extensions, loft conversions and much else besides.
Internal Refurbishment in Wandsworth
In Wandsworth we have undertaken many internal refurbishment projects either as part of other works or often as projects in their own right.  This will typically involve opening up an interior and creating a better lighter brighter interior.  We will often also design new furniture for this space alongside a range of other interior design work to include advice on materials, colours and lighting.  Our experience of interior design in Wandsworth draws from our experience of interior design projects all across London of all types and sizes.
Internal Refurbishment in Wandsworth
A constant in our work as architects in Wandsworth are the variety of basement extensions we undertake.  These are typically part of larger projects or projects in their own right and tend to range from basements to ground floor flats to basements as part of whole house extension and refurbishment projects.  We have now undertaken over 30 London basement extensions and continue to add to this portfolio of work.  Shape Architecture has recently put together a brochure of 30 London basement extensions which illustrates each basement project via photographs, computer models and 2D floor plans.
Wandsworth Loft Conversions
Alongside Wandsworth pod rooms we undertake loft conversions in Fulham and these provide large bedrooms with en-suite facilities.  Again with large dormers and mix of roof lights these spaces can be filled with light.  A roof light set over the en-suite shower provides a simple and striking feature.
Ground Floor Extensions in Wandsworth
Throughout Wandsworth we have undertaken many side and rear extensions.  These additions will have a dramatic effect on the rear ground floor planning of a house, enabling a large, light and bright combined kitchen and dining room to be created with excellent physical and visual connection to the garden beyond.  Large roof lights and fully glazed doors ensure that these spaces are flooded with natural light.
Pod Rooms in Wandsworth
As with interiors projects in Wandsworth we undertake pod rooms as projects in their own right as well as part of larger works.  A Fulham pod room will add much needed space in a relatively quick and easy way.  Another bedroom can be formed or larger bathroom or study room.  Planning permission for pod rooms is often gained via Permitted Development rights and a Certificate of Lawfulness where a volume calculation is a key factor or else via a Householders planning application where the projection of the pod room over the outrigger is key and the side wall should be at a seventy degree angle.  For permitted development pod rooms the side wall can be vertical.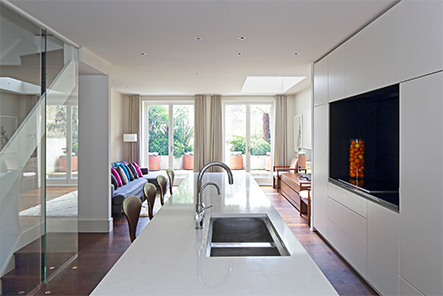 Sustainable buildings in Wandsworth
With over twenty years of experience on sustainable design we are able to offer practical advice on low energy sustainable projects in Wandsworth.  Our advice on low energy upgrade to existing properties is practical and appropriate.  This might range from the thermal lining of the existing walls to the best form of detailing around the installation of new energy efficient windows.  Throughout Fulham we have installed a mix of green sedum and brown rubble roofs.  We can advise on the use of sustainable materials and the use of Solar PV and Solar Thermal panels and Heat Pumps.  All the time pointing to other projects in our portfolio where we have used these technologies.
Adderley Grove, Wandsworth
Our Wandsworth basement project in Adderley Grove has been granted planning permission and features a below garden gym space in addition to the full plan basement.  As with many other basement projects a feature stair links basement and ground floor and serves to open up the space and bring significant natural light into the basement.