Roof Terrace Design
A significant part of our portfolio of work at Shape Architecture is the creation of roof terraces which we have been designing for over fifteen years.  Our portfolio of roof terrace projects is diverse both in size and building type.  Our first roof terrace project was fifteen years ago at Strathblaine Road in Clapham overlooking Clapham Junction station.  Following this we have gone on to create roof terraces to many buildings.  These include very prominent buildings such as the Grade 2 Listed Florin Court in Westminster, where we created a roof terrace incorporating a series of garden spaces to this famous apartment building.  At the opposite end would be our recent roof terrace in Fulham in Danehurst Road where we have created a roof terrace serving a first and second floor flat.  Adding valuable outdoor space to a flat with no garden and really transforming our client's enjoyment of the property.  Other types of roof terrace include those such as at Woodsford Square in London, where a roof terrace is accessed via an elegant side hinged rooflight that is electronically operated providing access to additional space for a modern town house.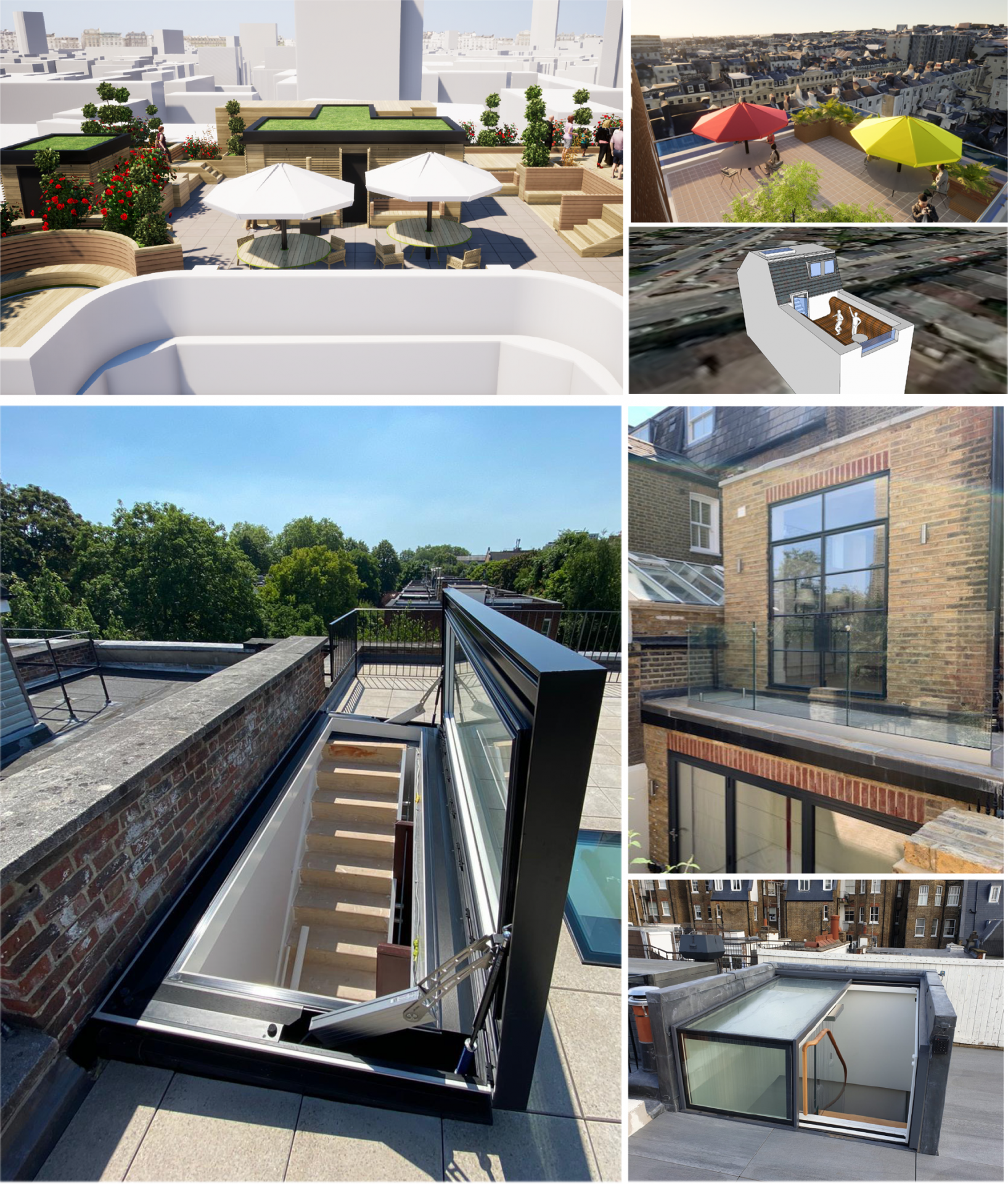 FAQ
Can I add a Roof Terrace to my house?
You will see from our portfolio of roof terraces that this covers a wide range of building types from terraced houses to blocks of flats and listed buildings.  The key criteria will relate to planning constraints more than technical issues as technically the formation of a roof terrace is fairly straightforward.  The key planning issues relate to overlooking and potential disturbance to neighbours.  Also relevant is the extent of the terrace and how it is enclosed and this relates to the design of the balustrading.  Is it glass or wrought iron for example.  Is the balustrading set back from the roof edge to diminish its visual impact.  Local planning approved precedent is extremely useful in gaining planning permission.  The proposed roof terrace should in its design illustrate how addresses all the points noted above.  Given the sensitivities we often recommend a Pre-App route whereby the local planning authority is consulted early on in the process with a sketch scheme and supporting design statement.  We will then receive back a report on the viability of the design and those elements that may need to be altered prior to the submission of a full application.