Shape Architecture has designed and obtained planning permission for many roof terraces over a long period and recognizes the increasing value of such projects.  Our roof terrace projects range from works to Apartment Blocks to terraces for small flats.  All add a valuable resource to each property and expand the relationship between outside and inside, where garden spaces are often not available. We have a large portfolio of Roof Terraces, some notable projects are:
Florin Court
, Westminster, Grade 2 Listed Art Deco building where we designed a series of garden spaces on the rooftop of this apartment building
Adam and Eve Mews
, Kensington, where we designed a roof terrace to a Mews House in a Conservation area accessed by a glass cube
Strathblaine Road
, Clapham, where we designed a roof terrace to a flat opposite Clapham Junction
Old Brompton Road
, where we have designed a roof terrace to a family home
Cavendish House Flats
, Brighton Seafront, where we obtained planning permission to turn a large area of flat roof into a roof garden for the adjacent flat
Woodsford Square
, Holland Park, where we built a roof terrace to a modern town house
Danehurst Road, Fulham, The addition of a roof terrace to an upper floor flat in a terraced house.
Norfolk Road, Hove, The addition of a large roof terrace to a house in a Conservation Area.
Read below to find out more about each project. We have included a range of images, photographs and further information!
Florin Court.
This project turns an extensive roof terrace littered with various elements of services into a valuable resource for all the residents of Florin Court with views towards St. Pauls Cathedral and a large part of London.  Florin Court is Grade 2 listed.  Shape Architecture was the only consultant employed and designed the landscape and negotiated with the planning authority.  The approval was given straight away.  The rooftop is divided into a series of spaces to cater for various needs.  These include quiet sitting spaces, Social spaces, a yoga platform and a Herb Garden.  The project is a great success and enjoyed by all.
Our Clients write:
" Shape did a wonderful job designing the private roof garden of Florin Court in Charterhouse Square. We now have an amenity which is much enjoyed by the residents of the 120 flats who can enjoy beautiful surroundings and sensational views across London. Shape worked well within a tight budget and interacted effectively with both ourselves as the client as well as our surveyors. "
Adam and Eve Mews.
This project sees the incorporation of a roof terrace to a Mews House.  The project also included the addition of a basement and the re-working of all floor levels.  The principal feature is an open stair that links the basement to the roof terrace.  Access onto the Roof Terrace is then via a glass cue where one side slides over the next to open up onto the roof terrace.  Wrought iron railings front the street façade.  As a Mews property, the house has no garden space and so the addition of a roof terrace is an immensely important part of the project.  
Strathblaine Road. 
This project was one of the first that Shape Architecture undertook.  Located opposite Clapham Junction it provides a roof terrace to an upper floor flat.  The project also included the transformation of the loft to create a Duplex Flat.  Since we built this project many of the neighbouring properties have also added similar terraces and all take advantage of the interesting views and additional space.
Old Brompton Road.
This is a recent project where we have submitted a pre-app application and have received a very positive and supportive report from the planning authority.  The project adds a large roof terrace to a family home which has access to a communal garden but no private garden space and so the roof terrace is extremely valuable.  Access is via  a low profile elegant rooflight.
Cavendish House.
This is a very interesting project.  Located on Brighton Seafront opposite the I360, Cavendish House is a large block of flats with great views out to sea and along the coast and back into the South Downs.  Our Client's flat gave onto a  large area of flat roof and they had informal access via a window.  Shape Architecture submitted a Pre-App application to create access via a door and provide glass wrap around balustrading and so create a private roof terrece for our Clients with amazing views out to sea.  We received a positive pre-app response and proceeded to lodge a full planning application.  This was refused.  Shape Architecture appealed this decision and we won.
Our Client writes:
" Jason was exceptional from start to end. He spent time really listening to what I wanted, giving practical useful advice on a project that was going to prove difficult obtaining planning permission for. Jason gave me innovative ideas. Due to his experience and knowledge he managed to secure planning permission on appeal without 3rd party involvement ! Fees are broken down for each stage of the whole process so there is no misunderstanding relating to the costs and great attention is given to time deadlines. It's been great working with Jason and his Enthusiastic team. I would highly recommend Shape Architecture."
Woodsford Square. 
This project adds a roof terrace to the top of a modern town house.  It is accessed by a continuation of the existing stair flight and has an automatically opening long rooflight opening up onto the terrace.  Again a wonderful space with far reaching views has been created.  We are now working for other neighbours who would like to create a similar resource.
Danehurst Road. 
Here we have added a roof terrace giving valuable external space to an upper floor duplex flat.  The addition of a roof dormer provides additional space and access onto the roof terrace.  As an upper floor flat our Clients previously had no garden space to use.  This project is much like the roof terrace added to a flat overlooking Clapham Junction.  One of our first roof terrace projects.
Norfolk Road.
Our Project at Norfolk Road is now starting on site.

This project adds a roof terrace and two first floor rear extensions to a house in a prominent Conservation area in Hove, next to a Listed building.  Access to the roof terrace is via a glass cube in a similar way to our Adam and Eve mews terrace.  The roof space is large and adds valuable outdoor and quite private space to a house in a busy setting.
Our client writes:
Simply blown away by our planning permission being granted for a roof terrace. Especially since we were told by residents on our street that it was impossible to achieve this. Thank you to the stellar team for such a smooth and efficient process. We cannot wait for the next phases now.
Southampton Street.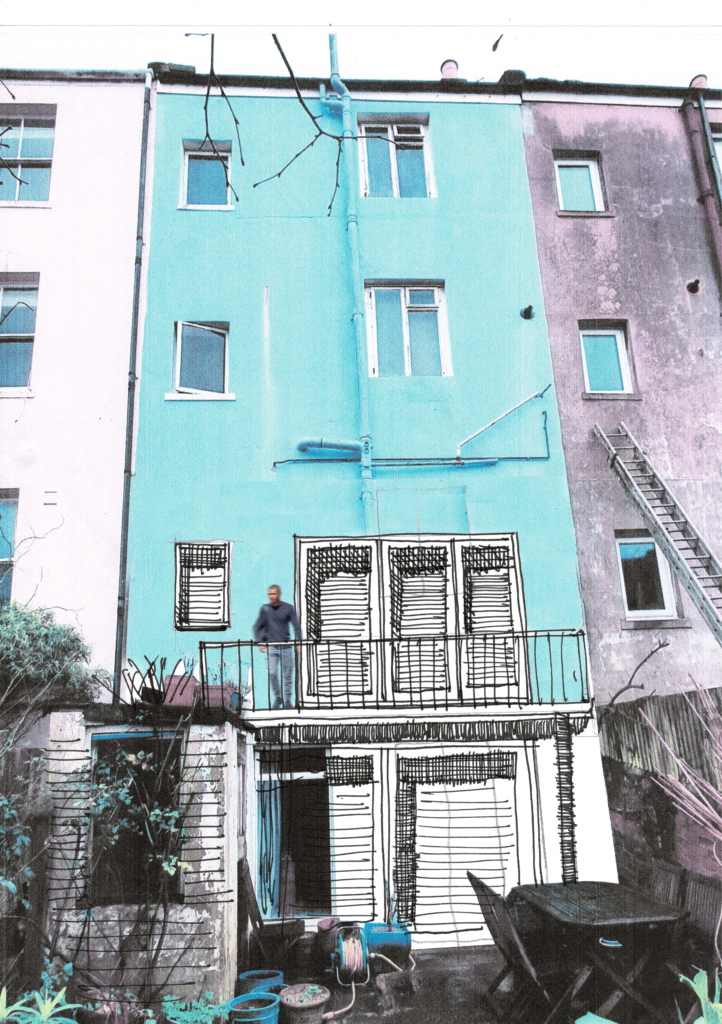 Planning approval for a roof terrace in Brighton.
If you would like to discuss the opportunity to create a roof terrace please feel free to contact Shape Architecture.  We have extensive experience and would be very interested in helping you!