Roof Terrace Extensions

Shape Architecture is currently working on two similar maisonette rooftop terrace projects, one on Constantine Road in Hampstead, and the other on New Kings Road in Fulham. The addition of rooftop terraces presents a unique opportunity to enhance the liveability and value of these properties by utilising previously inaccessible space to create a desirable outdoor area.
The project on New Kings Road involves a corner property maisonette flat. The transformation of the existing back addition roof into a rooftop terrace requires reconfiguring the internal access. This is achieved by adding a new internal staircase, providing the owner with access to the rooftop level. The proposal includes the addition of a dormer for access, a new roof, an external deck, and balustrading, all following local architectural precedents.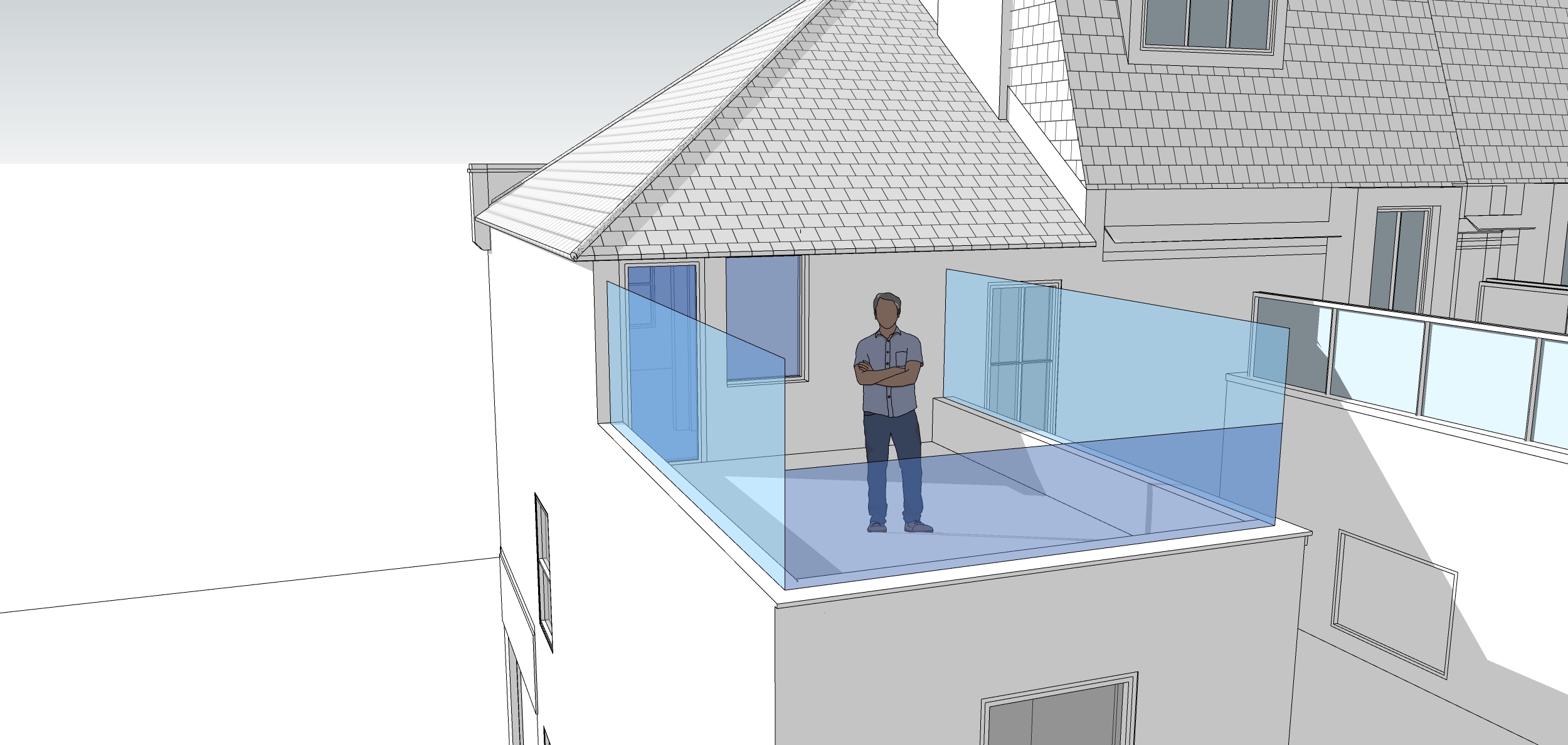 In picturesque Hampstead, London, known for its Victorian architecture and tranquil surroundings, the Constantine Road project is taking place. The approach is similar to that of New Kings Road but with a twist. The Constantine Road scheme includes a loft extension, this made it necessary to explore several options. Access to the existing upper levels of the building had to be maintained while also allowing for a further staircase to reach the new additional external terrace level.
For both projects, utmost care is being taken to maintain harmony with the Victorian design, carefully considering materials, colours, and elements for the terraces.
With each project however, different processes were undertaken. At the New Kings Road project, initially, no drawings were submitted to the Local Authority as they were exclusively produced for discussions the leaseholders raised with the Freehold. As Architects, we often create these drawings for such scenarios. On the other hand, the Constantine Road project involved a more comprehensive approach, including exploring a pre-application with the council.
With Constantine Road, the initial and crucial step involved engaging with the local council's planning department through their pre-application service. As the property is situated within conservation areas, stringent planning regulations govern any alterations or extensions. Preserving the area's character is a top priority for the council, necessitating a thorough evaluation of the proposed roof terraces to ensure they meet conservation requirements. Throughout the planning process, special attention is given to addressing and mitigating potential impacts on neighbouring properties, privacy concerns, and overlooking issues.
The addition of these well-designed roof terraces represents an exciting opportunity to enhance the living space and overall appeal of these Victorian maisonettes, it is something we continue to work on and enjoy in practice, especially considering changing attitudes towards external space in modern living. The introduction of access to external space for higher level properties is a great benefit for city living. As such, in the competitive real estate market, rooftop spaces have become sought-after features, attracting potential buyers and tenants alike, thus setting these properties apart from others in the area. Shape Architecture continue to work on these projects across London.