There are many advantages to incorporating a green roof in your project.  Our portfolio of green roof projects at Shape Architecture illustrates that projects of size and type can benefit from the addition of a green roof.
Below we lost a number of these advantages
Why should I choose a Green Roof?
Firstly, the appearance of a green roof is far better than the majority of other roof coverings.  When a roof is looked on to from neighbouring buildings a green roof should be considered.  It should also be judged favourably by the planning authority and neighbours.  From street level the edge of the green roof can be elegantly detailed and the sense of plants visible at the roof edge is good.  Also the composition of a green roof and roof lights or solar photovoltaic panels set within it is a attractive.
Whereas many discussions about the incorporation of a green roof in a project may focus on its appearance there are many other positive factors to consider.
The green roof be it soil with plants, a sedum roof or a rubble roof all serve to protect the waterproof membrane and as such improve the technical performance of the roof and serve to prolong its life.
Similarly the thermal performance of the roof is improved as is the acoustic separation the roof offers.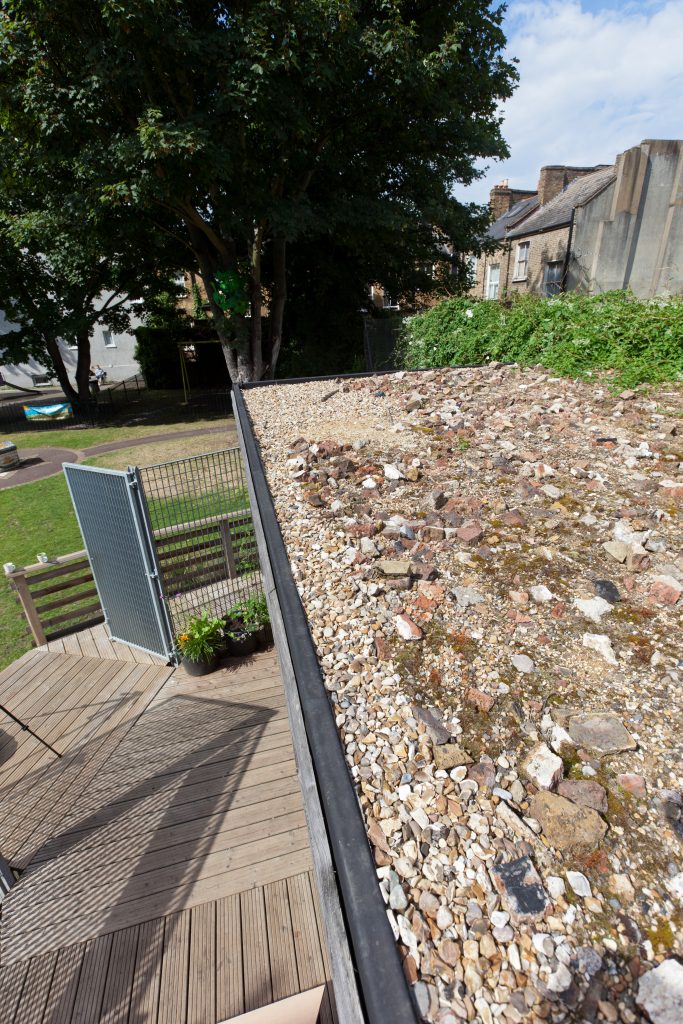 The Eco Shed projects used on site materials, in this case rubble found below ground to act as a platform for vegetation to grow from. 
An important factor in designing buildings is the water run off from flat roofs and the amount of water then flowing into public sewers.  A green roof absorbs up to 70 % of the rainwater that falls on it and  so markedly reduces the amount of water run off.
The green roof also provides an unrivalled habitat for birds and insects with a positive impact on the bio diversity of the area.
A green roof is clearly a very positive addition to any project.  In further articles we  will discuss the technical detailing of a green roof and how it is installed.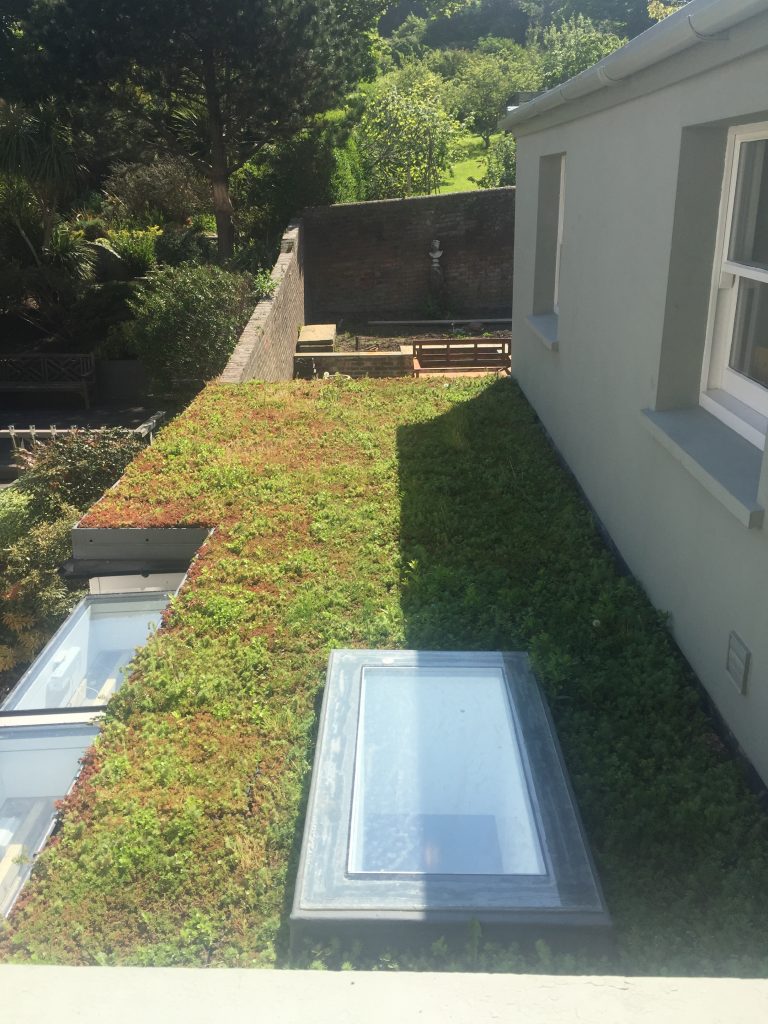 In hastings a green roof was used for dramatic effect; not only was the house refurbishment a testament to recycled and upcycled projects, the sedum roof gave a continuation of the greenery of the garden and beyond. 
[ultimate_ctation ctaction_background="#ffffff" ctaction_background_hover="#ffffff"]
 "A green roof absorbs up to 70% of the rainwater that falls on it and so markedly reduces the amount of water run-off."
[/ultimate_ctation]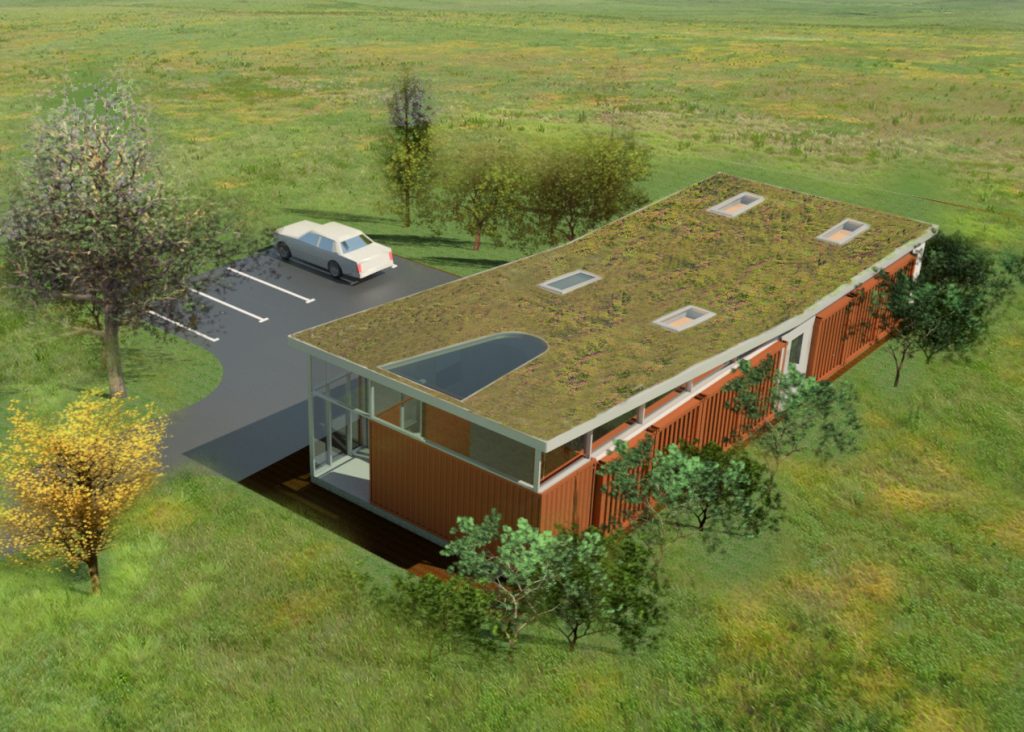 The proposal of an office was both well received and architecturally dynamic.
[ultimate_ctation ctaction_background="#ffffff" ctaction_background_hover="#ffffff"]
 "The thermal performance of the roof is improved, as is the acoustic separation."
[/ultimate_ctation]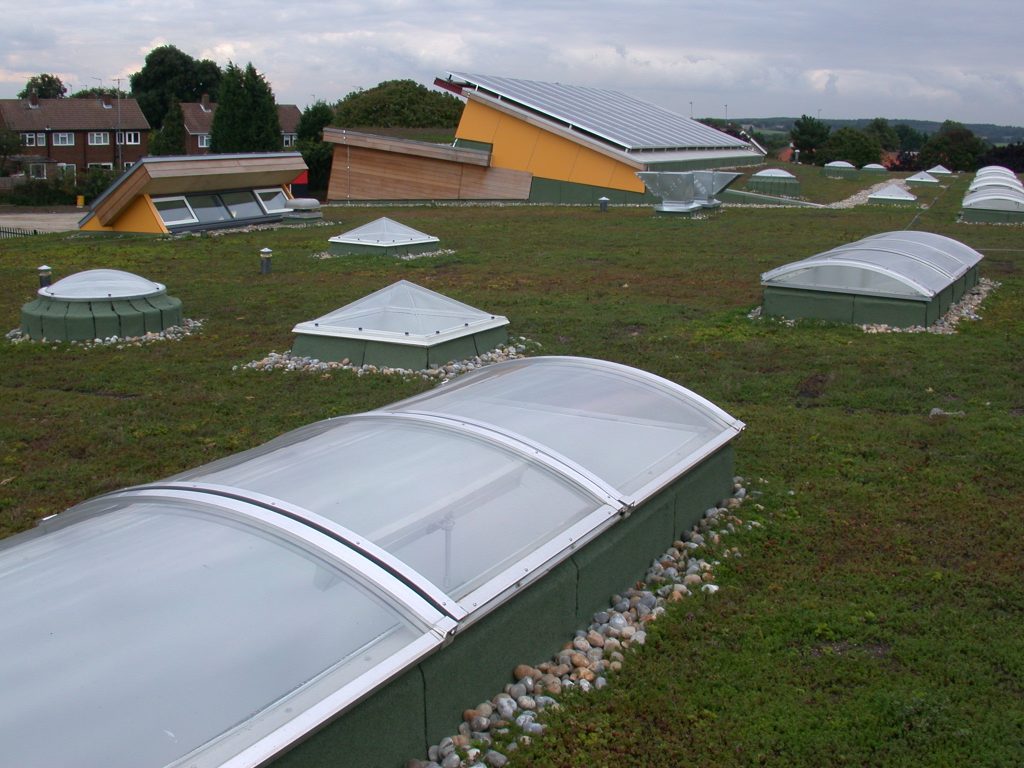 Shape Architecture Projects With Green Roofs