Our London basement extensions in Fulham beautifully marry up the internal and external spaces.
Although for the most part you may feel an architect is limited to the constraints of the footprint of the building here at Shape Architecture London we have a great pedigree in putting together interesting and cohesive garden areas and external spaces.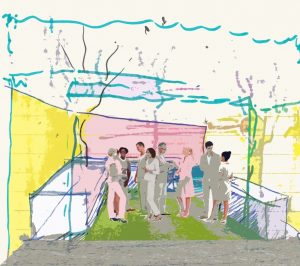 With the one basement conversion project in Fulham currently reaching a conclusive tender pack, more detailed and specific drawings are being drawn, one of which is to do with the layout of the garden.
The main blueprint for garden design came from another Fulham project which was delivered in a very successful manner; 110 Hurlingham Road was a triumph as our Architects Fulham created a 'glass box' encasing a feature staircase. As one walks down this staircase a vista of the garden opens out before them. Walking through a light well at the rear of the property, it's clear to see the interesting architecture in Fulham that can come from level changes between internal and external areas.
With all basement conversions in Fulham; the key element without doubt is the light well. A light well is an external space which allows light to enter an otherwise dark basement conversion in Fulham. By simply presenting an area on the same level with no structure above, separating the internal spaces by glass, large portions at the heart of the internal spaces can be illuminated by natural light.
Many basement conversion projects in Kensington generally have a rear lightwell, which allows access to a garden space, as well as a lightwell at the heart of the floor plan, often illuminating a feature staircase or the main circulation areas.
Fulham basement conversion external design revolves around raised beds and planning with the inclusion of trees. Aside from that there is also an introduction of a bench in the right corner and which ties into the main shape.
As one walks out into the garden with the bi-folding doors open wide, it is easy to see how seamless design for external and internal living can be. Detailing wise, we take care in ensuring all aspects from the flooring of the kitchen, glass bridge, and the patio will all be on the same level.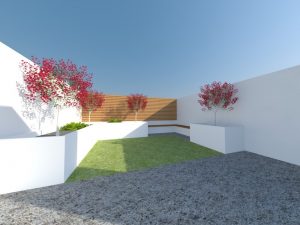 With a normal lawn great care does have to be taken with glass bridges- on wet day dirt from the lawn can be spread on to the glass which makes for an untidy looking element.
Great care then has to be taken in the design stages to find ways of detailing to avoid this as much as possible. 'Glass-to-Grass' detailing then becomes a key element; use of stone and paving is used cleverly to allow a tidy transition. Many householders in Fulham go further and incorporate AstroTurf into the design, and avoid using grass altogether. For this project at least, we embrace a nicely laid patio to lawn, and again tick another drawing off for our Architects' in London already comprehensive pack.